Pres. Barack Obama has now completed his unprecedented Sunday show media blitz ("El Completo Ginsburg"), and all the interviews have aired.
We took a look at how the four interviews went (excluding Univision for this post), and what was learned, based on several categories: number of questions, first, last and best question and how the host handled the all-important "race" question. Here are the results: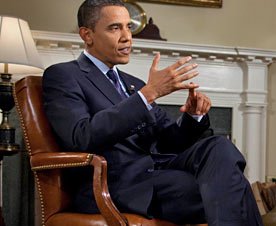 ABC: This Week
Total: 13 questions
First question: "Senator Rockefeller and several other Democrats say that this bill by Senator Baucus is a big middle class tax increase. Do you agree and does that mean you can't sign it?"
Last question: "What's the moment, in the last eight months, where you took a step back and said: 'Wow, I'm going to have to step up my game'?"
Race to the "race": 9th question
Best exchange: Stephanopoulos- "Merriam Webster's Dictionary: Tax – 'a charge, usually of money, imposed by authority on persons or property for public purposes.'" Obama- "George, the fact that you looked up Merriam's Dictionary, the definition of tax increase, indicates to me that you're stretching a little bit right now."
Takeaway: George Stephanopoulos probably had the best closing question (there's no doubt who had the worst – more on that later), and it really made the President come up with a unique answer. Also, the exchange about the dictionary was a lighter moment that gave Obama a nice opportunity for some ribbing. Stephanopoulos is a solid, fair interviewer. While most of the interview was serious and touched on the key points, the exchange felt a bit like an adviser to the President playing devil's advocate. It gave a chance for some other perspective (Stephanopoulos talked about how certain topics would be perceived politically), but the tone of the interview made the questions less pointed.
(See more here.)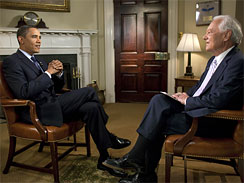 CBS: Face the Nation
Total: 11
First question: "Have you promised too much, Mr. President?"
Last question: "Even people who agree that that missile system is out of place are asking questions. Shouldn't you have tried to get something from the Russians in exchange for doing that?"
Race to the "race": 5th question
Best question: "Seven former directors of the CIA have sent you a letter today asking you to reverse the decision of the Attorney General to reopen the criminal investigation of CIA interrogations that took place after the attacks on September 11th. Would you consider that?"
Takeaway: Bob Schieffer conducted a calm, focused interview that hit the key points while extending to other areas like the CIA letter. It put Obama on his heels – but even with Schieffer's follow-up, Obama didn't give much of an answer. The final question ended the interview on a newsy note as well.
(Here's more.)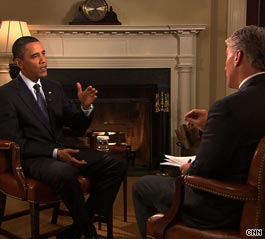 CNN: State of the Union–
Total: 19 questions
First question: "I get out of Washington every week for the show, in Connecticut and Rhode Island this week. And I knew I was going to be seeing you, so I asked 20 people, "What would you ask if you had the privilege that I have at this moment?" Eighteen of the twenty, eighteen, asked a variation of where are the jobs? When are they coming back?"
Last question: "I was on a college campus this week and at a lab where they're trying to make an H1N1 vaccine. As a parent with two daughters in school, how are you dealing with this? And does the Obama family plan include a vaccine for you?"
Race to the "race": 16th question
Best question: "Do you think President Karzai stole the election?"
Takeaway: John King fit in 19 questions and didn't rush the "race" question into the front of the a very wide-ranging interview. He even admitted in his final question he had gone over time – but he got in a question, and got an answer, sure to make headlines today. The very pointed exchange about Pres. Karzai was a winner as well – in fact, many of the foreign policy questions gave the CNN audience a perspective not seen in the other three.
(More here.)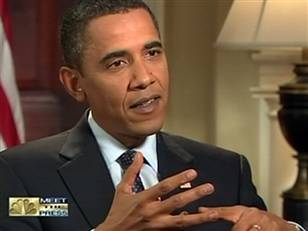 NBC: Meet the Press–
Total: 10 questions
First question: "At this point have you said, 'I've laid out my plan. Take it all or nothing'?"
Last question: "Who is your pick to win the World Series?"
Race to the "race": 5th and 6th question.
Best exchange: Gregory- "Like the public option. You effectively said to the left, 'It's not gonna happen.'" Obama- "No, that's not true. What I've said is the public option, I think, should be a part of this but we shouldn't think that, somehow, that's the silver bullet that solves health care."
Takeaway: David Gregory's health care-related questions were strong, well-researched, and his follow-ups pushed the President to take a position. That said, he only got in 10 separate questions, and two related to the "race" issue. And one – well one was about baseball. It's one thing to want to end the interview on a lighter note, as Gregory said, but it's another to ask a question with such little relevance to the national debate as who the President wants in the World Series. Sure, maybe it'll get ESPN to replay that portion. But John King going overtime to get the President to take a stand on vaccines, an important, but not pressing issue, only highlights the missed opportunity here by Gregory to really make each minute count.
Winner: CNN. Here's their video:


—–
» Follow Steve Krakauer on Twitter
Have a tip we should know? tips@mediaite.com