Obama's Perpetual Campaign Mobilizes Dems Around Last Source Of Cohesion: Not Being Republican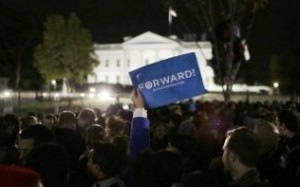 The economic recovery continues to flounder. Unemployment ticks up to one tenth of a point higher than when the president took office in 2009. Guantanamo Bay remains open for business. A hard won health care reform law may require its own set of reforms before it can be fully implemented. Corporate loopholes in the tax code remain persistently available to the nation's CEOs who, by the way, have little to fear from their government curbing their benefits or bonuses. While the war in Iraq was wound down according to an agreed to timetable, the president has committed American military support to more rather than fewer global battlegrounds. The state of the Union may be strong, but President Barack Obama does not have much in the way of progressive victories to showcase for his base on Tuesday night.
Enter Obama's campaign machinery as they ramp up efforts to open new fronts in an endless political civil war. If he chose, Obama could make it clear — in actions as well as words — that a permanent campaign is detrimental to national comity. Unfortunately, neither the president nor his party have many other options left to maintain popular support. After failing to deliver on so many promises made to the American people in 2008 – promises coveted by the president's Democratic base – what other organizing principle do Obama's supporters have left than simply not being Republicans?

RELATED: Obama's Perpetual Campaign: When Will The Nation Tire Of Not Having An Executive In The White House?
On Monday, Michael Blake, director of Operation Vote for what used to be Organizing for America (OFA) which then became Obama for America (OFA) and is now Organizing for Action (OFA), joined the hosts of MSNBC's The Cycle to discuss his group's continuing mission as the president enters his second term.
"Often we said, 'in 2008 we change the guard, in 2012 we guard the change,'" Blake said. He discussed OFA's voter outreach and youth engagement – critical if Democrats hope to balance against the traditionally older electorate which is expected to turnout for the 2014 midterm elections.
The uncomfortable sensation of cognitive dissonance continued as the MSNBC hosts and Blake pivoted to the president's focus on gun control as a graphic was displayed on the screen indicating that only 15 percent of voters want Obama to focus on gun laws in his State of the Union address.
So many of the obstacles to new gun laws – even broadly popular background checks – can be found in moderate Democrats in the Senate. Even more opposition can be found in the House, which is faithfully fulfilling its constitutional design as the body most reflective of populist sentiment. But the president is not arm twisting behind closed doors to get real reforms passed. If he were, the public would not be the subject of endless cajoling by pro-Obama political operatives.
Like so many of this president's political priorities, gun control and opposition to new gun safety laws have become a source of political cohesion for Democrats. Legislative goals have endgames – the passage of a well understood and limited bill is one type of endgame. But gun control is not a legislative goal for this White House, at least not yet. It is just another organizing principle; organizing principles exist for their own sake.
"Immigration, gun rights, environment, climate change – all these pieces are part of that continual movement," Blake concluded, listing a few other sources of Democratic self-reverential virtue. OFA is happy to agitate for a solution to these supposed priorities, but their solutions – when they bother to advance a solution – require bipartisanship and compromise. When any opposition to the president's solutions dares arise, this is most often when the president's supporters, or the president himself, suggest that any opposition to his policy goals is either personal or rooted in malice. Predictably, perhaps even by design, this behavior tends to erode bipartisan support.
Seasoned political reporters have noted the vacuum of leadership in Washington emanating from the singularity in the Oval Office. The increasingly frantic tone that the repurposed OFA campaign is taking is, however, a sign that the American people are beginning to notice the leadership deficit in the Capitol. Nothing so focuses the political mind like a collapsing approval rating. So, the Obama campaign machinery churns back to life again.
Campaigns end. Campaigns have a well-defined goal or set of goals. Missions, however, exist in perpetuity. The Obama machine is evolving from a campaign apparatus into a mission – a crusade –not to effect change, but to create a character trait around the support for the president and the Democratic party. Lacking many positive accomplishments to celebrate in the president, Obama's supporters find purpose in not being Republicans. OFA will cement that condition into a cultural as well as a political identity.
The GOP retreated to this position, too, once President George W. Bush's popularity had cratered and prosperity had retreated, but OFA's great innovation was to create the conditions where his supporters can fulfill their political destiny simply by existing. Efficacy and accomplishment are ancillary to the righteousness of maintaining upright political values.
Recently, frustrations with the president's militaristic drone program began to bubble to the surface among progressives. The first cracks are showing in the president's coalition – the most prominent fractures since progressives attacked the president for failing to support a public option in the Affordable Care Act. A burgeoning consensus between progressives and conservative libertarians over Obama's prosecution of conflicts overseas cannot be allowed to persist. Expect the president's State of the Union address to reinforce Democrats' perception of themselves as the good guys – or, said another way, not Republicans.
> >Follow Noah Rothman (@NoahCRothman) on Twitter
Have a tip we should know? [email protected]