Obama's Reasoning For Not Releasing Bin Laden Death Photo: 'That's Not Who We Are'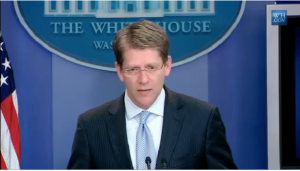 We've been anxiously awaiting the White House's decision on whether or not it would release any of the photos from the raid on Osama bin Laden's compound – especially an image of bin Laden's corpse taken after the fact. Well, the wait is over: White House press secretary Jay Carney today announced that a decision has been made and it's a staunch "no, we won't be releasing any images." And it would appear that the reasons are twofold. Not only is the President concerned about what releasing the photos may mean for national security, he is also concerned with maintaining a specific image for the U.S. in the eyes of the world.
Carney quoted President Obama's thoughts on the matter, shared doing an interview with CBS' 60 Minutes:
We discussed the matter internally. Keep in mind that we are absolutely certain that this is him. We've done DNA sampling and testing, so there is no doubt that we killed Osama bin Laden.

It is important for us to make sure that very graphic photos of someone who has been shot in the head are not floating around as an incitement to additional violence or as a propaganda tool. That's not who we are. We don't trot out this stuff as trophies.

The fact of the matter is, this was someone who was deserving of the justice that he received. And I think Americans and people around the world are glad that he is gone. But we don't need to spike the football, and I think that, given the graphic nature of these photos, it would create some national security risk. And I've discussed this with Bob Gates and Hillary Clinton and my intelligence teams and they all agree.
Have a look at Carney's full statement:
Have a tip we should know? tips@mediaite.com