Obama's Spiritual Adviser Talks To MSNBC About President's Gay Marriage Decision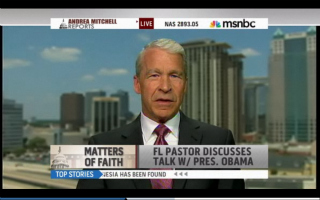 On Wednesday's edition of MSNBC's Andrea Mitchell Reports, President Obama's "spiritual adviser" Rev. Joel Hunter talked to host Andrea Mitchell about the conversations he had with the president the day of his decision to openly support gay marriage.
Hunter says that the president called him to make sure their relationship is going to be okay following the airing of the Robin Roberts interview in which Obama officially endorsed state-sanctioned gay marriage. When Mitchell asked the reverend if he had previously counseled Obama on the subject of gay marriage, he said no:
I'm a pastor in his life. So I don't really talk to him about politics or policy. I just talk about his personal life and his understanding of the scripture. But he knew where I was on this. And that's why he was calling, and I told him in the call, I can't find this in scripture. […] His basis for decision wasn't just scripture. It was anecdotal. He talked about the friends he has and, of course, the servicemen. And he has a real heart in his role as president. Everybody has a quality. So, for him, that translated into marriage. For those of us who believe God defines what marriage is, that doesn't translate.
Despite their disagreement on whether homosexuals should be allowed to marry, Hunter said that he understands where the president comes from and that Obama is a "very serious man":
He wants to do the right thing. But for him, that doesn't come straight just from scripture. For those of us are biblically obedient Christians, it does. For those who interpret scripture out of relationships and cultural trends and so on and so forth, there are other considerations that he made.
Clip below, via MSNBC:
Have a tip we should know? tips@mediaite.com