O'Brien Battles Romney Communications Adviser Over 'Contradictory Statements' On Palestine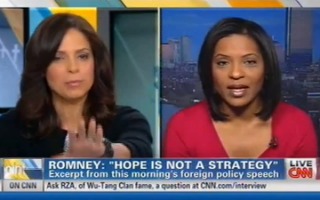 On Monday, CNN's Soledad O'Brien invited Romney senior communications adviser Tara Wall to Starting Point to discuss an upcoming speech the GOP candidate is slated to present in Virginia, touching on a number of foreign policy issues and laying out his own plan for the U.S.'s role in global affairs.
In the campaign's preview of Mitt Romney's speech, he vows to "recommit America to the goal of a democratic, prosperous Palestinian state living side by side in peace and security with the Jewish state of Israel." On this "vital issue," he continues, "the President has failed."
O'Brien then brought up Romney's "47 percent" video, which showed the candidate telling donors that he's "torn between two perspectives" on the issue of Palestine, one of which is that the Palestinians have no interest whatsoever in pursuing peace in the region. The host asked Wall which of the two contradictory statements is true.
Wall responded by saying that Obama had decided to meet with "entertainment folks" rather than the Israeli PM, prompting O'Brien to point out that she wasn't addressing her question.
"Hold on, just hold," said O'Brien. "My point is, it's completely contradictory, so my question is, which is it? Okay, then tell me how it's not completely contradictory in your viewpoint, but don't talk about President Obama at this moment, answer the question about Governor Romney."
Wall responded that it is not her role to get into a foreign policy debate, suggesting that O'Brien "put on a couple of foreign affairs experts and let them go at it and pick this apart the way that you would like to have it picked apart."
"That's unfair," O'Brien replied. "I'm just asking you about your message. That's unfair. I'm only asking you about a contradictory message." Wall reacted by noting that she rejected that very premise.
Have a look, via CNN:
Have a tip we should know? tips@mediaite.com