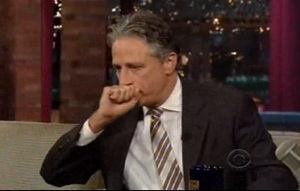 The coming edition of the NY Times Sunday Magazine features an in-depth and reasonably fair portrayal of Glenn Beck that describes him as a "sage" (among other things.) But that's not the best evidence that Beck has finally been accepted by both the mainstream media and "cultural elite." No, the better example is that Jon Stewart seems rather consumed with Mr. Beck having talked about him during appearances on Oprah, The O'Reilly Factor and now, after last night, Late Show with David Letterman.
It's a fairly well accepted axiom in the media business that controversy sells, and with Mr. Stewart doing a rather significant publicity tour promoting his new book, a little feud doesn't hurt the amount of attention he gets. But there is a more relevant corollary, and that is this: never get in a conflict with some one of less importance and fame. The examples of "punching up" are many: a few years ago MSNBC took on Fox News and saw their ratings grow. Fox News responded by taking on GE (not NBC).
And now it seems that critical darling and "generation defining" fake newsman Jon Stewart is taking on Glenn Beck. To quote Stewart, "whaaa?" In the following clip, Beck becomes the subject of conversation between host and guest in a manner that ostensibly seems friendly, but really puts Beck in a most unflattering light. There is a whiff of Junior High "cool" kids picking on the new kid (who's suddenly the most popular) behind his back.
Have a tip we should know? tips@mediaite.com