O'Donnell And Panel Gleefully Stoke The War Between Karl Rove And The GOP: 'These Guys Are Making It Fun'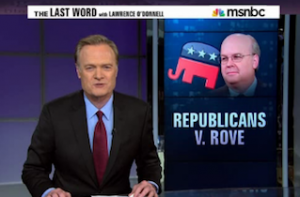 Karl Rove has had a tough week since he announced he would be forming a new super PAC to help establishment Republicans fend off primary challenges from Tea Party candidates. The left had seemed to be giving Rove a pass for once. But he's been hammered from the right by everyone from S.E. Cupp to Mark Levin to Donald Trump. Now, Lawrence O'Donnell has entered the fight, pitting Rove against the changing face of the GOP that he's supposedly trying to help.
O'Donnell set up his segment by saying, "Republicans are at war with Karl Rove. Bush's brain, as Rove used to be known, when Rove was thought to still have a brain, is on a mission to crush bat-crap crazy Republicans so the party will actually nominate more reasonable candidates who have a chance of winning general elections against Democrats." But, he noted, "the problem for Karl Rove is that he and his rich Republican friends may be out numbered by crazy Republicans."
He specifically called out "long-time right-wing lunatic" Brent Bozell who went after Rove in a NewsBusters.org column for preventing real conservatives from succeeding in Republican primaries. O'Donnell then went on discuss the "dangerously crazy" Rep. Steve King who is currently leading polls to be his party's nominee to replace Sen. Tom Harkin (D-IA) but running 11 points behind the leading Democratic candidate. "These guys are making it fun," O'Donnell said, before welcoming his guests to discuss the growing fight.
The Grio's Joy Reid agreed, saying "there have always been more crazy people than sane people in the Republican party." She added, "the only reason that Karl Rove was considered a genius, was that he managed to convince these crazy people in the conservative party that a Methodist named George W. Bush… was an evangelical right-wing flame-thrower like they are. He put one over on them and now they've figured it out."
"It's a generation later now," The Huffington Post's Howard Fineman added, "and these people have access to the internet and other avenues to get their voices out that they didn't have before," which is why he thinks Karl Rove is "done."
O'Donnell brought the conversation back around to the Democrats, who he sees as capable of disagreeing with President Obama on issues like "drones, Guantanamo, banking reform" and others while still holding the party together. "They concentrate on what they agree on." If Republicans keep entering into these internal wars, they will never be able to overcome the Democratic majority.
Watch video below, via MSNBC:
—
>> Follow Matt Wilstein (@TheMattWilstein) on Twitter
Have a tip we should know? tips@mediaite.com