O'Donnell Calls Out GOP Rep. For Blatant Conflict Of Interest: 'Should Be A Crime,' But 'Everyone's Cool' With It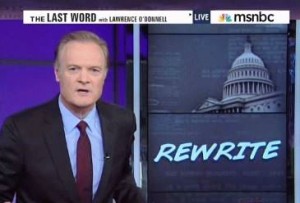 Lawrence O'Donnell used his Rewrite segment tonight to put the spotlight squarely on Republican congressman Stephen Fincher, who used the Bible to justify his opposition to food stamp programs while using his position on the House Agriculture Committee to fight for more agriculture subsidies, and just happens to receive millions of dollars a year in federal farm subsidies. O'Donnell explained there is no conflict of interest law that prevents members of Congress from doing this, declaring that there is a "special place in the Congressional hall of shame" for him.
O'Donnell made the point that for all the talk now about scandal in Washington, no one in either party nor anyone in the media considers this blatant conflict of interest to be scandalous. He repeatedly criticized the agriculture subsidies Fincher is fighting aggressively for as the "single stupidest form of socialism this country embraces," and marveled at how Fincher is just unashamedly "taking [money' out of the United States Treasury."
O'Donnell said Fincher gets away with it because firstly, Democrats and Republicans "love socialism" when it comes to farm subsidies, and secondly, "there is no law against conflict of interest in the Congress" and "everyone's cool with that." He challenged viewers to recall a single time in history any member of Congress has ever recused themselves from a vote because of a personal financial conflict of interest.
O'Donnell declared, "It should be a crime," and called out Fincher for, despite all this, justifying his opposition to food stamps by quoting a Bible passage reading that "the one who is unwilling to work shall not eat." O'Donnell remarked, "All criminals have justifications for their crimes," and suggested there is a "special place in the Congressional hall of fame" and even in "federal prison" for Fincher.
"And no one in Washington thinks that's a scandal."
Watch the video below, courtesy of MSNBC:
—–
Follow Josh Feldman on Twitter: @feldmaniac
Have a tip we should know? tips@mediaite.com
Josh Feldman - Senior Editor