O'Donnell Confronts Female Gun Rights Advocate Over Testimony: You Don't Go To Senate To 'Imagine Things!'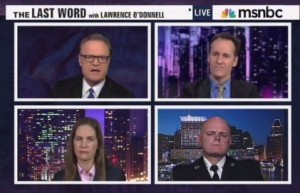 One of the stars of today's gun hearings on Capitol Hill was Gayle Trotter, a gun rights advocate who defended the Second Amendment rights of women in front of the Senate committee. Lawrence O'Donnell confronted Trotter about her testimony; in particular, a section where she put forth a hypothetical scenario in which a mother would need an assault weapon to defend herself. O'Donnell told Trotter that the Senate is a place for reports and facts, not for people to "imagine things."
RELATED: Female Gun Advocate Lays Into Democratic Senator Over Women's Second Amendment Rights
O'Donnell highlighted Trotter's exchange with Senator Sheldon Whitehouse to ask her why she used the example of a weapon that wouldn't even be banned by the proposed legislation, telling her that neither she nor a single Republican could muster up an anecdote of anyone successfully defending themselves with an assault weapon or high-capacity magazine. When Trotter tried to explain why she's grateful to have a platform to speak out, O'Donnell interrupted her and pushed her to answer his question. He dismissively remarked, "You're not going to answer the question" as she tried to respond.
"Just say 'I can't answer that question because it will embarrass my case. I would now like to make a speech.' If that's what you're going to do, take a minute and make a speech."
Trotter patiently explained that people should look at her testimony online detailing how women have been attacked by violent men, saying that it "doesn't matter" for women in perilous situations what weapon they have to defend themselves. O'Donnell said he watched her testimony and read through the whole thing online, and told her that absolutely none of her examples included the use of any weapons that could be banned under the law.
O'Donnell turned to Baltimore police chief Jim Johnson to lament the same lack of concrete evidence. Johnson told Trotter that there is no one calling for any blanket gun bans, citing statistics showing that women are less likely to be victimized in states with background checks. O'Donnell went back to Trotter to further explain why her examples are ridiculous: in some of the cases the assailants were not even armed, and even played a clip of her creating an "imaginary case" during her testimony.
O'Donnell scolded Trotter for creating an imaginary scenario for something that has "never happened." Trotter stuck to her defense, to which O'Donnell laughed and continued to lecture her.
"You do not go to the Senate to imagine things! You go to the Senate to report things. You go to the Senate to help them with facts for how they should construct their legislation. And you went in there… imagining something that's never happened."
When Trotter said that she's representing the views of millions of women, O'Donnell fired back by calling out her pro-life position and saying she only supports women's right to choose "massacre weapons." Trotter told O'Donnell sternly that "calling people names is not a way to win an argument."
Watch the video below, courtesy of MSNBC:
—–
Follow Josh Feldman on Twitter: @feldmaniac
Have a tip we should know? tips@mediaite.com
Josh Feldman - Senior Editor