Lawrence O'Donnell Explains How O'Reilly Attempted To Quietly Insult Sean Hannity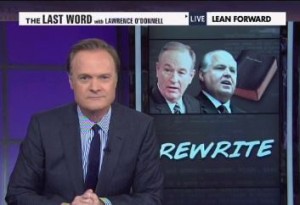 Lawrence O'Donnell cannot get enough of the growing feud in the conservative media ranks over gay marriage, started after Bill O'Reilly's shot heard 'round the world. But this time, O'Donnell took on O'Reilly's assertion that the feud is, in fact, not a feud.
RELATED: Lawrence O'Donnell Revels In O'Reilly-Limbaugh Gay Marriage Feud: 'They Hate Each Other!'
O'Donnell first happily pointed out that like O'Reilly, he himself has also used the same "Bible thumping" phrase. He ran the video of Laura Ingraham actually insisting to O"Reilly that there is a feud. O'Donnell was shocked at how much he agreed with O'Reilly about his point about how beliefs are not sufficient to win a political argument, but claimed O'Reilly saying it caused a "real rift in the Republican party."
O'Donnell also showed Charles Krauthammer agreeing with O'Reilly's point, and how Limbaugh actually responded with disdain to Krauthammer on his radio show. But still, there's no feud, right?
O'Donnell also picked up on how O'Reilly was dissuading his producers from telling him to keep speaking on the fact that Ingraham is his favorite radio talk show host. The basic implication there, O'Donnell concluded, is that O'Reilly believes Ingraham to be a better radio talk show host than "all the rest of right-wing radio nuts, including Limbaugh himself." He accused O'Reilly of intending to directly insult not just Limbaugh with that statement, but also Sean Hannity.
So yes, O'Donnell mocked, O'Reilly's clearly "not feuding at all."
Watch the video below, courtesy of MSNBC:
—–
Follow Josh Feldman on Twitter: @feldmaniac
Have a tip we should know? tips@mediaite.com
Josh Feldman - Senior Editor