O'Donnell Obliterates 'Liar From Texas' Ted Cruz For 'Embarrassing Himself' During Feinstein Debate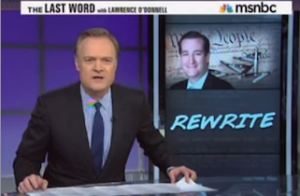 In his "Rewrite" segment Thursday night, Lawrence O'Donnell took on this morning's confrontation between Senators Dianne Feinstein (D-CA) and Ted Cruz (R-TX). And he did not attempt to hide where his allegiances lie.
O'Donnell hit Cruz hard right off the bat, saying "the liar who Texas voters have sent to Washington as their junior senator embarrassed himself again today." He added, "Ted Cruz made a career of telling lies that right-wing fanatics wanted to hear."
From there, O'Donnell specifically pointed to the speech Cruz made two and half years ago at an event sponsored by the Koch brothers, in which he accused several Harvard professors who were teaching while he was a law student of being "Communists" who wanted to "overthrow the U.S. government."
O'Donnell said that for "right-wingers" like Cruz, "lying is a sport," it's "fun" and there's no way Cruz actually believed what he was saying because if he had he would have transferred to another law school. But there's no way he could have done that because "he knew he was in what most observers regard as the best law school in the country."
This story eventually wound its way back to the incident with Feinstein, with O'Donnell saying that Cruz is "finding that his lying game doesn't work quite so smoothly in Washington." After playing an extended clip of the tense interaction between Cruz and Feinstein, O'Donnell essentially accused Cruz of playing dumb during the Senate hearing today, arguing Constitutional points that he knew were not valid. "He was just playing his lying game today," O'Donnell concluded.
Watch video below, via MSNBC:
—
>> Follow Matt Wilstein (@TheMattWilstein) on Twitter
Have a tip we should know? tips@mediaite.com