O'Donnell Shreds Ingraham For Scolding Rachel Jeantel: You're Complaining About Bad Manners…On O'Reilly's Show?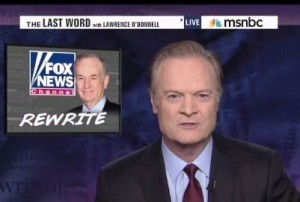 Tonight Lawrence O'Donnell used his Rewrite segment to call out O'Reilly Factor guest host Laura Ingraham for railing against "upper-crust" white people who are making excused for the poor manners and behavior of Rachel Jeantel, one of the key witnesses in the George Zimmerman murder trial who testified last week. O'Donnell couldn't help but find it just a wee bit hypocritical that someone would complain about another human being's poor manners… on a TV show hosted by Bill O'Reilly.
RELATED: Laura Ingraham Slams Rachel Jeantel Defenders: 'We Have To Excuse Her Poor Manners… Because She's Black?
On last Friday's Factor, Ingraham found it outrageous how many liberals in the media were leaping to defend Jeantel and her culture, asking "We have to excuse her poor manners, her disrespectful language, and cocky ignorance because she's black?" She also used the phrase "soft bigotry of low expectations" and attributed it to the late senator Daniel Patrick Moynihan.
O'Donnell prefaced his comments with the acknowledgement that he is "no judge of manners" and others have told him that he doesn't exactly have the best manners, before asking if Bill O'Reilly's show is the most "appropriate forum to be giving lectures on manners." O'Donnell then showed a bunch of O'Reilly clips involving a lot of shouting at guests, and even went so far as to bring up the old "We'll do it live!" video.
O'Donnell then corrected Ingraham's attribution of the "soft bigotry" phrase, explaining that Moynihan never used the quote; the one politician who did say it was George W. Bush. O'Donnell found it remarkable how Ingraham could "get that so wrong," but then pointed out that "no one expects Fox News to get the facts right, not even loyal Fox News viewers."
Because these viewers, as O'Donnell put it, have "learned to have very low expectations."
Watch the video below, courtesy of MSNBC:
—–
Follow Josh Feldman on Twitter: @feldmaniac
Have a tip we should know? tips@mediaite.com
Josh Feldman - Senior Editor