O'Donnell Slams IRS Targeting: No One In Gov't 'Seems To Know How Wrong The Government Has Been'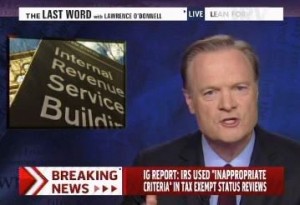 Lawrence O'Donnell opened his show tonight by discussing the new report from the Treasury inspector general on the IRS targeting scandal, and read President Obama's full statement on the report's findings. O'Donnell declared that the report's claim that the Tea Party targeting was the first time the IRS has ever used "inappropriate criteria" to go after organizations is false, and found it astonishing that "the government, and no one in it, seems to know how wrong the government has been."
RELATED: Rep. Issa Rips Obama Over IRS Scandal: 'How Dare The Admin Imply' They'll 'Get To The Bottom Of It'
O'Donnell argued that as far back as 1959, the IRS has used a bad interpretation of the law to target political groups, since it views the criteria of "exclusively… promot[ing] social welfare" as operating "primarily to further the common good," an interpretation O'Donnell found more than a little strained. He concluded from tonight's report and Obama's reaction that the White House has decided it's pointless to "try to teach the truth" to the media and the public, and just settle for the standard political practice of piling on the IRS.
O'Donnell noticed how everyone in the media has settled on describing the Tea Party targeting as an outrage, when he argued the real outrage is how the agency has allowed the law to basically come down to judgment calls. MSNBC's Ari Melber used the opportunity to go after House Republicans for being a "blame Obama first crowd," though he did express serious concerns with "viewpoint discrimination" at the IRS that may have been a result of "long-standing incompetence."
O'Donnell added that the IRS standards really must be lax if they consider any application with the word "party" on it to be in the business of promoting social welfare as opposed to partisan politics.
Watch the video below, courtesy of MSNBC:
—–
Follow Josh Feldman on Twitter: @feldmaniac
Have a tip we should know? tips@mediaite.com
Josh Feldman - Senior Editor