O'Donnell Tears Apart NRA Presser: 'Lobbyist For Mass Murderers' Wayne LaPierre Is A 'Desperate, Cornered Rat'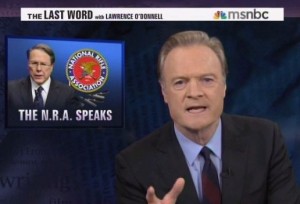 Lawrence O'Donnell took on the widely-panned NRA press conference earlier today, completely unsurprised that Wayne LaPierre, the nation's top gun lobbyist, stubbornly refused to acknowledge that guns were at fault in last Friday's tragic Connecticut elementary school shooting, and basically ranked video games and violent movies as more dangerous than guns. O'Donnell methodically deconstructed and tore into every single one of LaPierre's points, calling him a "lobbyist for mass murderers" and a "desperate, cornered rat."
RELATED: Michael Steele Left Speechless By 'Very Haunting And Very Disturbing' NRA Press Conference
O'Donnell was, first of all, stunned that Washington practically came to a screeching halt to cover the speech of a man who claims to represent four million dues-paying members (many of whom disagree with him, as O'Donnell pointed out), saying that leaders of much larger organizations would not get the kind of attention LaPierre did. And as for LaPierre's recommendation of armed guards at every school, O'Donnell explained that the money for such security simply isn't there for many towns.
How convenient, O'Donnell noted, that the solution to the problem is something that would not inconvenience the NRA at all. LaPierre blamed Natural Born Killers and American Psycho for being part of a disturbing trend in the mainstreaming of entertainment violence, but it was his attacking Hollywood for being "complicit co-conspirators" in mass murder that really set O'Donnell off.
"Here is the lobbyist for mass murderers, the only lobbyist that mass murderers have, calling actors, actresses, people whose pensions might be invested in mutual funds… complicit co-conspirators in these murders."
O'Doonell also hammered LaPierre for trying to go after the mass media for not knowing what they're talking about when talking about guns by citing one isolated example of such. But more importantly, O'Donnell asked, "is there really something to quibble about in how powerful a bullet is when it is heading toward a six-year-old at the speed of 3200 feet per second?"
Circling back to the NRA's school security program, O'Donnell pointed out the NRA never recommended such security at movie theaters following the shooting in Aurora, Colorado this summer, or armed guards stationed in parking lots after a gunman opened fire at a parking lot in Tucson, Arizona last year.
But what O'Donnell found most unbelievable was LaPierre's ardent opposition to any law whatsoever to crack down on gun violence. O'Donnell also brought up a "vile fundraising letter" LaPierre sent out on the day of the election claiming that if President Obama won re-election, he and the NRA would lose more on the battlefield greater than any loss as a result of actual warfare.
Watch the video below, courtesy of MSNBC:
—–
Follow Josh Feldman on Twitter: @feldmaniac
Have a tip we should know? tips@mediaite.com
Josh Feldman - Senior Editor