Oh Bother: Disney Yanks Kids Costume For Upcoming Film After Accusations of 'Brownface'
If you thought that you would be able to dress up your kid like Dwayne "The Rock" Johnson's new animated character from the Disney film Moana, you might just be a racist.
The company behind the animated film set in the South Pacific — opening November 23, 2016 — harmlessly released the following kids costume as part of its gazillion dollar merchandize haul: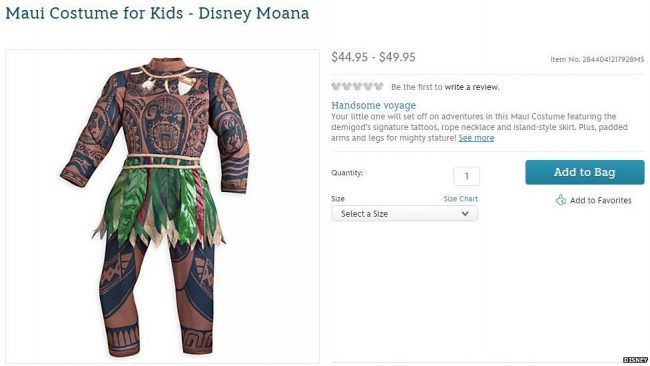 The product description reads, "Your little one will set off on adventures in this Maui Costume featuring the demigod's signature tattoos, rope necklace and island-style skirt. Plus, padded arms and legs for mighty stature!" It includes the pe`a and typical Polynesian tribal tattoo designs.
Not to mention a side dose of BLATANT RACISM.
That, at least according to critics of the item who are slamming Disney for promoting "full-body brownface." The New Zealand Human Rights Commission has even called on the company to, "listen to the views of the communities and people whose cultures their movie is based upon."
Dear #Disney , our brown skin is not a costume. Get outta here with that crap. Sincerely, a furious brown skinned Pacific Islander. #Moana

— taleifiji (@TaleiFiji) September 19, 2016
The backlash was so severe that a Disney representative issued a statement Wednesday, saying, "The team behind Moana has taken great care to respect the cultures of the Pacific Islands that inspired the film, and we regret that the Maui costume has offended some. We sincerely apologize and are pulling the costume from our website and stores."
Since your kid can't go as a Polynesian demigod for Halloween this year, maybe try dressing him up as a white Disney executive in a suit who bends to political correctness.
[h/t BBC]
Have a tip we should know? tips@mediaite.com