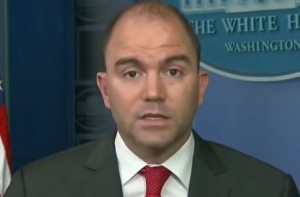 White House national security advisor Ben Rhodes went on CNN's Erin Burnett Outfront last night to defend the new Iran nuclear deal, during which he claimed the Obama administration never wanted anytime, anywhere inspections in Iran.
"I understand you're saying they can go 24/7, but there is a process, right?" host Erin Burnett asked. "You can't just say, 'we're suspicious of this site, we're walking in tomorrow, walking in an hour.' It's not that anytime, anywhere."
In his response, Rhodes pushed back against the "anytime, anywhere" comment. "We never sought in this negotiation the capacity for so-called anytime, anywhere where you could basically go anywhere in the country, look at whatever you wanted to do, even if it had nothing to do with the nuclear program."
"But the bottom line then is, you're saying you never went for anytime, anywhere?" Burnett pressed. "Because as you are well aware, critics of this deal say this is really the core thing. If you don't have anytime, anywhere, what do you really have?"
But Rhodes dodged the question. "This has the most robust inspections and verification regime that we've ever had in this time of agreement that we've negotiated…"
Watch, via CNN:
The problem is, Rhodes has been very, very clear in the past that the administration's stance was that the United States expected so-called "anytime, anywhere" access. Here's a partial transcript of Rhodes' appearance on CNN's The Lead with Jake Tapper from April 7 (emphasis added):
TAPPER: So the Israelis have put out this list of things that they think should be in the final deal with Iran, including allowing inspectors to go anywhere any time. That seems perfectly reasonable, no?

RHODES: Well, Jake, first of all, under this deal, you will have anywhere, any time 24/7 access as it relates to the nuclear facilities that Iran has. You will also have access to…

(CROSSTALK)

TAPPER: What about the military facilities?

RHODES: What we will have under this deal, Jake, is the strongest inspections regime that any country faces in the world. And what that means is if we see a site that we need to inspect on a military facility, we can get access to that site and inspect it. So if it's a suspicious site that we believe is related to its nuclear efforts, we can get access and inspect that site through the IAEA.
Oh, and then there were his comments on Israeli Channel 10, as reported in the Times of Israel at the time.:
In his second interview, on Channel 10, Rhodes also claimed the new arrangements ensure "anytime, anywhere" inspections of any and every Iranian facility — contradicting complaints by Israel that no such provision is guaranteed.

Asked directly if the IAEA would have anytime, anywhere access, Rhodes said, "Yes, if we see something that we want to inspect."
Hmmm. It's possible that Rhodes was simply mistaken the first two times he said in separate interviews that anytime/anywhere inspections were the goal of the Obama administration. Maybe the national security advisor to the President of the United States of America has no idea what the United States's interests in Iran are. No biggie.
Or maybe he blatantly lied to the American public. Hard to say which is more embarrassing.
[Image via CNN/screengrab]
——
>>Follow Alex Griswold (@HashtagGriswold) on Twitter
Have a tip we should know? tips@mediaite.com