'Oh My God!': Nicolle Wallace Shocked That Chuck Todd Refuses to Praise Christie's 'Good Day'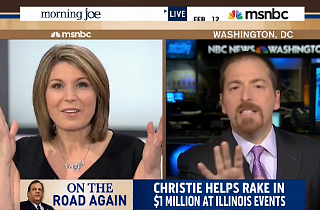 Things got a bit tense on Wednesday's Morning Joe when frequent panelist and GOP strategist Nicolle Wallace called out MSNBC reporter Chuck Todd for refusing to praise Gov. Chris Christie's "good day," despite having covered every other "minuscule detail" during the governor's post-Bridgegate months.
Christie appeared in Chicago on Tuesday, giving remarks before the city's Economic Club and raising more than $1 million for the Republican Governors Association. While the George Washington Bridge scandal continues to follow him, some in the press believe the Windy City appearance to have been a "good day" for the governor.
When asked whether he agreed with that assessment, Chuck Todd shrugged off the notion: "Okay? I mean, how do you define?"
Former George W. Bush flack Wallace expressed her disbelief, interjecting, "Come on!" before repeatedly saying, "Oh my God!"
"I guess it's a good day that what?" Todd pressed on. "That he didn't get, that more indictments didn't come in?"
"Stop, stop," Wallace interrupted. "Rachel's not on 'til 9," she jabbed, referring to primetime host Rachel Maddow, who has spent much of her recent programming digging into Christie's scandal.
"What is that?" an incensed Todd fired back, before stumbling to explain his belief that "we're overdoing it now."
"Oh my God," Wallace said again with disbelief. "So much time has been spent in the last four weeks covering every teeny, minuscule, breaking non-news event."
"Not on my show," Todd responded.
"Well, on the network on which you appear and I appear," Wallace replied, before taking a stab at "every formerly-objective member of the press" now going after the governor on a daily basis. The fact that Christie's Chicago appearance is a "nothing-burger" to Todd, she continued, "is something that should educate Governor Christie about the climate he'll face should he run for president."
"I'm not treating him as a presidential candidate in my mind right now," answered Todd.
Watch the full clip below, via MSNBC:
[h/t TPM]
— —
>> Follow Andrew Kirell (@AndrewKirell) on Twitter
Have a tip we should know? tips@mediaite.com