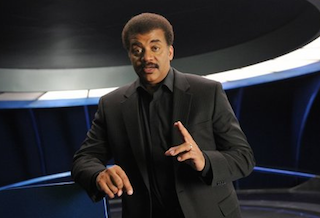 When Cosmos: A Spacetime Odyssey premiered on Fox last Sunday, it was the first time in decades that a show dedicated to science was appearing on prime time on a major network. The show's host, Neil deGrasse Tyson, has a knack for making seemingly non-controversial statements that never-the-less get under the skin of America's religious conservatives.
Tyson waited until the last ten minutes of the show's premiere to bring up the theory of evolution. But just before he described how humans "stood up and parted ways from" our ancestors, viewers in Oklahoma City were treated to sharp mid-scene cutaway to a local news promo. After about 15 seconds, when Tyson had finished talking about the human transition to "standing on two feet," the station returned to the show.
KOKH Fox 25 responded to the controversy surrounding the edit on Twitter, saying they "regret" the "operating error."
Sunday, during @COSMOSonTV, a local news promo was aired over a portion of COSMOS content. This was an operator error & we regret the error.

— KOKH FOX 25 (@OKCFOX) March 12, 2014
Accidental coincidence? Or deliberate effort by that Oklahoma station to scrub evolution from Cosmos' premiere? Take a look at both versions of the scene and see what you think.
Watch the edited video below, via KOKH-TV:
Watch the same scene as it appeared on New York's WNYW-TV (and presumably everywhere else in the country):
[h/t Raw Story]
[photo via screengrab]
— —
>> Follow Matt Wilstein (@TheMattWilstein) on Twitter
Have a tip we should know? tips@mediaite.com