Oklahoma Teen Arrested Friday In School Shooting Plot, Hours Before Sandy Hook Massacre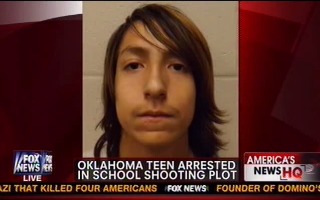 The same day the nation was reeling from the tragic loss of 26 lives at a school shooting in Newtown, Connecticut, police arrested a teenager for allegedly planning a shooting rampage at his high school and attempting to recruit classmates to help.
Police in Bartlesville, Oklahoma arrested 18-year-old Sammie Chavez just before 5 AM Friday morning. Chavez was charged with conspiracy to cause serious bodily harm or death. He is currently in jail on a $1 million bond and is slated to appear in court on January 11.
Layne Jones, assistant principal at Chavez's high school, called police on Thursday to warn them of the impending attack. A fellow student told officers that Chavez tried to "recruit other students to assist him with carrying out a plan to lure students into the school auditorium where he planned to begin shooting them after chaining the doors shut."
Chavez told his classmates he planned to place bombs at each of the doors and would detonate them when police arrived. He also threatened to kill students who refused to join him.
The further details are chilling. Chavez told a teacher that he had bought a .45-caliber gun and was learning how to shoot it. He had also been seen researching the 1999 Columbine High School massacre and was trying to obtain a diagram of his school.
The school district made the incident public Friday, by alerting parents and faculty via email that it had investigated a "potential incident," which was now in the hands of local police. Superintendent Gary Quinn praised administrators and law enforcement for their quick action:
"We appreciate the excellent relationship we have with our local law enforcement and their swift response to the information we provided them. We will always put the safety of the students of the Bartlesville Public School District first and foremost."
School officials are adding extra patrols around the area to keep students and residents safe for the next few weeks.
Watch the clip below, via Fox News:

—
>> Follow Anjali Sareen (@AnjaliSareen) On Twitter
Have a tip we should know? tips@mediaite.com