Oklahoma Woman Is Rammed By Minivan Because She Looks Like Casey Anthony (UPDATE: Or Did She?)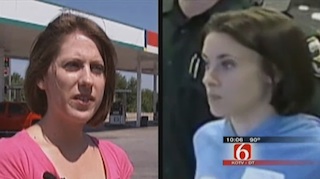 And here we thought it was only a problem to have the name "Casey Anthony." Sammay Blackwell, a 26-year-old Oklahoma woman was nearly killed last week after a crazed convenience store customer confused her with everyone's favorite TV star (and acquitted murderer) Casey Anthony. Pretty, young brunettes out there, now might be a time to buy some hair dye. (UPDATE at bottom)
Blackwell was at her job at a convenience store when a woman, Shireen Nalley, entered and began eyeing her suspiciously. Nalley then paid and left. However, when Blackwell tried to go home that night, she found Nalley waiting for her in the parking lot. Blackwell got in her car to drive away but Nalley chased after her, eventually ramming her car twice and causing it to flip two and a half times.
Oklahoma's KWTV has more:
"Police chased Nalley for a while and finally arrested her for assault and battery with a deadly weapon. Nalley told police she was 'trying to save the children.'

'She said that I was trying to hurt babies, I was killing babies and she was going to stop it before it happened again,' Blackwell recalled. 'She could have taken me away from my family, my daughter.'"
Well, it's an easy mistake to make. Blackwell does kind of look like Anthony. Sure, Anthony lived in Florida and not Oklahoma. Sure, she didn't work in a convenience store. And, sure, she is still, y'know, in jail, but whatever.
Hmmm, it's times like these that I kind of wish every news outlet in the country didn't spend the past few months talking about how this women was "definitely guilty" and then the past two weeks screaming about how "Caylee didn't get justice." Oh well, at least everyone got good ratings, right?
So, good luck, America's brunettes! I wish you the best and hope no one murders you! At the very least I hope, if they do, someone else is able to use your death to win their hour in all key demographics that night. At least then you won't have died in vain.
UPDATE: Or maybe we can all hold our righteous indignation. TMZ is reporting the story is false and that the attack had nothing to do with Anthony. Still, watching the video below, it definitely seems like that's what Blackwell and her mother are saying. Was this some kind of ingenious editing job on behalf of KWTV? Either way, we can all be kind of disgusted with the news media right now.
Watch the news report from KWTV below:
(h/t Reddit)
Have a tip we should know? tips@mediaite.com