Olbermann Announces He Will Be 'Running' Current's Election Coverage After NH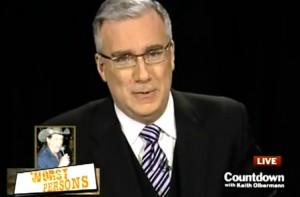 The enigmatic feud between Countdown host Keith Olbermann and his network, Current TV, has ended, not with a bang, but with a Sunday announcement that the fiery liberal provocateur has agreed to anchor the network's election coverage following Tuesday's New Hampshire Primary, which isn't quite the network's preferred outcome, but close enough. Still unresolved is the reason for this dust-up, which Olbermann has implied had at least something to do with technical difficulties on his news hour.
From The Hollywood Reporter:
"I am pleased that I'll be running the election coverage on Current, following this Tuesday's New Hampshire primary," said Olbermann in a statement to The Hollywood Reporter on Sunday. "However, I don't think those participating in the New Hampshire primary will share my satisfaction."

A spokesperson for Current confirmed that progress between the two parties was made over the weekend and that they expect Olbermann to participate in election coverage going forward.

…Olbermann will have complete creative and editorial control. But it's unclear exactly what that coverage will look like; whether Olbermann will do a special edition of Countdown with his own panel of guests or lead the network's Politically Direct election specials, which have featured Cenk Uygur, Jennifer Granholm and network co-founder Al Gore.
The whole thing began when The New York Times' Brian Stelter reported on possible tensions between Olbermann and Current TV, as manifested by his scheduled (as in, ahead of time) absence from Current's Iowa Caucus coverage. That made it all the more strange when, several days later, Olbermann tweeted his followers that he was "headed into the office now" for Countdown's return from holiday hiatus, followed by a more dramatic tweet that advised viewers "So as not to mislead: I am informed Countdown will not be on tonight. I must defer on all questions to @JoelHyatt@AlGore and@Current."
But according to the network, Olbermann was more than "informed" about his absence from the schedule Tuesday night; he was responsible for it. A Current source confirmed to Mediaite that Olbermann was kept appraised of the Iowa Caucus plans at every turn, and acknowledged as much, in at least four or five emails dating back to mid-November. In those emails, Current executives tried to secure Olbermann's participation in the program, as they have previously stated, but he refused.
Then, Wednesday night, The Hollywood Reporter broke news that the whole thing had gone to the lawyers, but a source at the network told Mediaite, Thursday, that, while Olbermann's representatives are frequently in contact with Current as a routine matter of course, they have not been contacted about this matter. The source also said that the network had invited Olbermann to anchor Tuesday's New Hampshire primary coverage, but had not gotten a response.
Olbermann also pushed back hard at reporting by The New York Times' Brian Stelter, accusing him of "threatening" Olbermann in order to get him to go on the record. Now, as suddenly as it started, the whole mess appears to be over.
Whatever touched off this spat, it's a safe bet it runs deeper than some equipment malfunction. Olbermann and Current have smoked the peace pipe for now, but as THR notes, he's got four years left on his contract with the network, and it looks like those years just got a lot longer.
This is an opinion piece. The views expressed in this article are those of just the author.