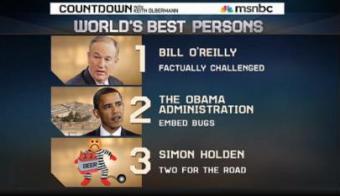 We know whatever GE/FOX "deal" there was is now dust. But last night the attacks reached heights not seen since before the summer. On Countdown with Keith Olbermann, the MSNBC host went after Bill O'Reilly personally.
And it was based on some faulty ratings – which Glenn Beck pounced on during his radio show today.
Olbermann named O'Reilly the "Best Person in the World" last night (and changed the picture), but it was more of the same – a knock at the FNC host. Began Olbermann (via J$):
In his nightly round of self-applause last night, designed to drown out the echo of daddy hitting him…
This insult takes the feud to another level – or rather, the level it was at before June when several reports say a truce of some kind was first reached.
The attack came over O'Reilly's insult toward MSNBC's ratings, and Olbermann answered with some new ratings info of his own. "Ours is the highest rated cable news program viewers 35 and younger and the highest rated cable news program for all viewers not on Fixed News," he said.
Well besides the fact that "35 and younger" isn't exactly a usual demographic, according to Nielsen, this doesn't appear to be accurate. The lowest age level would be the 18-34 demo, which O'Reilly still beat Olbermann in during July (140,000 to 124,000). The FNC host is winning by that same percentage in August so far.
On Beck's radio show today, he went after Olbermann. Olbermann continued last night describing the FNC audience as "tinfoil hatters, conspiracy theorists, paranoids and racists," and Beck had a response:
I don't know how many lines you need to cross before you get to State‑Controlled Media. Does Barack Obama need to sign the check for Keith Olbermann before we can look at MSNBC and NBC News as State‑Controlled Media?
O'Reilly won't fire back at Olbermann – he considers that swinging down. But expect another GE takedown soon, and for the cycle to continue. With Beck involved, the ante is upped that much further.
Here's Olbermann's "bests" segment:
Have a tip we should know? tips@mediaite.com