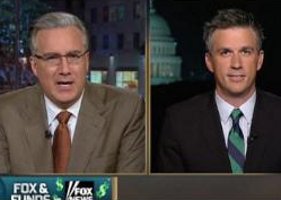 You'll never believe this, but it seems that Keith Olbermann isn't the biggest fan of Fox News! In case there was any doubt, on last night's Countdown he made it clear again, going after what he sees as the network blatantly enabling Republican political candidates, and the candidates themselves for taking full advantage.
The prime offender he featured was Sharron Angle, Republican candidate for U.S. Senate in Nevada. Olbermann ran audio from the Las Vegas Sun of Angle speaking about fund-raising efforts, and the advantage the right media appearance can provide:
"But here's the deal – when I get a friendly press outlet – not so much the guy that's interviewing me – it's their audience that I'm trying to reach…when I [appeared] on Sean Hannity's television show we made $40,000 before we even got out of the studio in New York."
While no, it's not a good thing whenever people ostensibly holding those in power accountable may actually further empower them…the idea that a Republican candidate might get a boost from a highly visible appearance on Fox News is hardly any more of a revelation than that Olbermann doesn't like the network. Of course appearing on Hannity will lead to greater exposure – like it did for Christine O'Donnell, whom Olbermann also ripped – and, by extension, donations. But does any politician ever go on any program for the sole reason of informing the public?
Olbermann then talked to Media Matters president Eric Burns, who said Fox News is "not a news organization, it's a political operation," and even said "there's a possibility for legal action in certain areas," so inappropriate is the help Fox News provides to GOP candidates. But since it would be a shock if something like that actually happened, the most interesting thing Burns talked about is that Media Matters does indeed have a source inside Fox News – as unlikely a pairing as you'll see in media.
Mostly, though, the segment didn't tell us anything we didn't already know – a fact Olbermann acknowledged when he cited "the admission from that [Fox News] source, as if we really needed one." Politicians make media appearances they think will help them. Sky = blue. Oh, and the name they gave the segment ("Fox & Funds") wasn't bad wordplay. Video below.
Have a tip we should know? [email protected]