Olbermann: If Redskins Isn't 'Racist,' Why Doesn't Dan Snyder Call Native Americans That?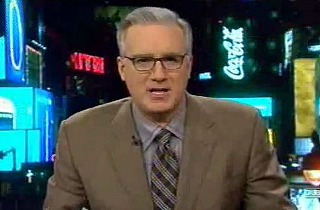 ESPN host Keith Olbermann ripped into Washington Redskins owner Dan Snyder on Tuesday night for insisting that he will not change his team name in spite of protests from liberal and Native American groups. Snyder announced he is establishing the Original Americans Foundation (OAF), which Olbermann mocked relentlessly. The ESPN host also noted that Snyder exposes in the letter announcing the new organization that he knows his NFL team's name is racist because he does not refer to Native Americans as "redskins."

"We begin with Daniel Snyder's attempt to silence opponents of his NFL franchise name by bribing them," Olbermann began, before mocking the name of his new organization.
After reporting on OAF's charitable works, Olbermann dismissed them as insufficient. "The guy's worth a billion two, he wants us to continue to let him use that racist team name and he wants a round of applause from the entire country because he has laid out well over $10,000 already on OAF," Olbermann exclaimed.
RELATED: Olbermann Explains What Makes Him a 'Danger to Humanity'
The ESPN host proceeded to read from Snyder's letter regarding OAF and noted that the letter never used the term "redskin" to refer to Native Americans.
"If his team nickname really isn't' an offensive, racist term, if it is, as he claims, it's a point of pride among Native American tribes, how come not once in his letter doe Dan Snyder actually refer to actual Native Americans as 'redskins?'" Olbermann asked.
Watch the clip below via ESPN:
[Photo via screen grab ]
— —
> >Follow Noah Rothman (@NoahCRothman) on Twitter
Have a tip we should know? tips@mediaite.com