Olbermann Mocks Gretchen Carlson After Reminder Of Years-Old Jeopardy! Battle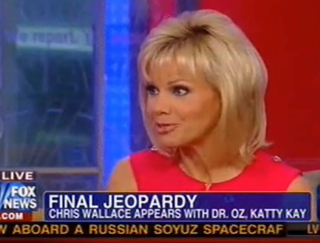 Breaking News: someone mentioned Keith Olbermann on television! This was a major development in the Olbersphere today, and Olbermann, via his Twitter account, snapped at the opportunity like a fry near the surface of the ocean tempted by the most alluring chum the anglers above could offer. Today the inadvertent target was Fox & Friends' Gretchen Carlson, who noted that she had been on the "Power Players" edition of Jeopardy! with Olbermann. For her high insolence, Olbermann tweeted, "that's why they let her into Final Jeopardy as a Mercy Play."
RELATED: Chris Matthews Explains His Hardball Reporting Method To Alex Trebek
The insult seems to have gone astray when actually meant for Chris Wallace, who responded to her factual statement that she had been on the program with Olbermann and Sen. Al Franken by jokingly calling them both "dopes" after guessing she had been on the show with Einstein. The blind rage after being called a "dope" in comparison to Einstein seems to have triggered Olbermann to call her entry into Final Jeopardy a "mercy play" and remembering her exact score: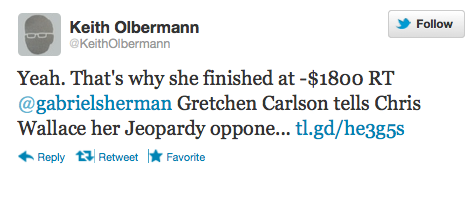 It is true that ending on a negative number– in this case, -$1800, as Olbermann recalled— does not allow one to continue to final Jeopardy! as it requires a wager of money already earned.
Wallace was on Fox & Friends to discuss his stint on Jeopardy! to air tomorrow, alongside Dr. Oz and Katty Kay. He noted that he was unable to discuss what transpired ("my lawyer would break my fingers") but that he was quite concerned a medical topic would come up and render useless any of the knowledge he acquired in the process of working in journalism.
"I did this a couple of years ago as well," Carlson noted, asking Wallace to guess who the contestants against her were. "Einstein?" he asked jokingly. She gave the answers, to which he said, "they're dopes, the both of them." Olbermann promptly retweeted someone catching the comment on television, though he later cooled on attacking Carlson by confirming that she was, in fact, both a Rhodes Scholar and Miss America. He also retweeted a video of his appearance and explained his loss– "Al beat me my about $1200. Then again one category was about sketches HE'd written for SNL :)."
The emoticon does make up somewhat for the excessively swift attack on Carlson– something we'd not even expect out of the poor people who had to play against Wolf Blitzer last time around– so perhaps Olbermann was just kidding around. Unfortunately, he doesn't have the kind of reputation that lends itself to people giving you the benefit of the doubt when they don't know if you're kidding or legitimately outraged, though one can't imagine Carlson will be wounded by the reminder of her negative scoring enough to turn this into a back and forth.
The Fox News clip below:

Have a tip we should know? tips@mediaite.com