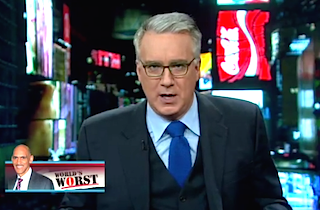 Former Indianapolis Colts coach Tony Dungy was the winner of Keith Olbermann's "World's Worst Person in Sports" Monday night after he said this week that he would not have drafted Michael Sam, who will likely become the first openly gay man to play in the NFL this fall.
Olbermann contrasted Dungy's new comments to ones he made back in February of this year ahead of Sam being drafted by the St. Louis Rams. "The NFL has always been based on merit and I think that will continue to be the case whether it's Michael Sam and the issue of homosexuality or anything else. Guys who produce and play well will be welcome in the league," he said.
"Just not on Tony Dungy's team," Olbermann added.
While Dungy would not want to "deal with" Sam, he previously stood up and offered to be Michael Vick's mentor in the league after that player was caught up in a dogfighting scandal. "To Mr. Dungy, whatever the distractions Michael Vick presented were nothing compared to the distractions Michael Sam might present," Olbermann said.
He compared Dungy's comment that "things will happen" to what football coaches and owners said until 1946 about players "who looked like Tony Dungy." And what owners said until 1989 about guys who wanted to become head coaches and "looked like Tony Dungy."
"Tony Dungy just admitted that Tony Dungy wouldn't be a skilled enough coach to deal with the distraction of doing the right thing," Olbermann concluded.
Watch video below, via ESPN2:
[Photo via screengrab]
— —
>> Follow Matt Wilstein (@TheMattWilstein) on Twitter
Have a tip we should know? tips@mediaite.com