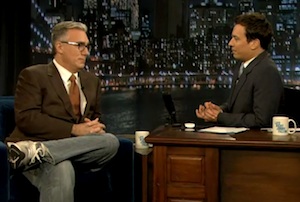 Keith Olbermann is currently making the rounds of various talk shows in an effort to drum up support, attention and viewers for Countdown Version 2.0, which will premiere on the hard-to-locate Current network next Monday evening. Last night he entered his old stomping grounds, a studio at 30 Rock, for an appearance on Late Night, and exhibited his trademark brashness by telling host Jimmy Fallon that he still would like to hire Rachel Maddow from MSNBC to join him at his new network. Self-aggrandizement, anyone?
In Olbermann's first appearance on NBC's airwaves since his departure from MSNBC in January (and perhaps his first time in 30 Rock since he left), the bombastic cable news host addressed some of the issues raised in a recent interview with Hollywood Reporter, namely his current relationship with Ms. Maddow. It had been reported that they hadn't spoken since he left, but Olbermann clarified that it wasn't that they weren't on speaking terms, its just that they have both been pretty busy. When Mediaite reached Ms. Maddow for comment, she graciously declined.
To prove the point that he still holds his former colleague in the highest esteem, he reiterated his desire to one day hire Maddow from MSNBC once her contract is done. And given how big an audience that she has developed — in addition to bipartisan respect — of course he would like to have Maddow working alongside him. But one has to wonder what Rachel Maddow thinks of all this, especially since she has long since eclipsed Olbermann's standing as the leading liberal pundit in the current opinion media landscape.
Memo to Keith Olbermann: Rachel Maddow doesn't need you to offer her a job. She already has a pretty great gig, hosting the top-rated program on MSNBC each and every night. To put it in terms he might understand, Olbermann is offering her a chance to go from being MSNBC's Lou Gehrig, to being Wally Pipp's backup in the Grapefruit League. The notion that Olbermann seems to think that Maddow would leave the millions of daily eyeballs to go to a network that gets tens of thousands of eyeballs, and to play second fiddle, not only seems absurd, but maybe even delusional.
Watch the clip below, courtesy of NBC:
Have a tip we should know? tips@mediaite.com
Colby Hall - Founding Editor