Olbermann Tidbit DuJour: NYT Quotes Rupert Murdoch, "I Fired Him, He's Crazy"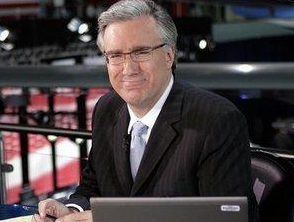 The life and career of Keith Olbermann gets a full vivisection in the world's newspapers this morning, from the jobs he's abandoned in past years to a series of near-firings at MSNBC in recent months. The New York Times describes the Friday night conclusion to Olbermann's stellar rise at MSNBC as a split that came "after years of tension."
The Times story, by Brian Stelter and Bill Carter, is a rich read full of fascinating detail, like a quote from Rupert Murdoch after Olbermann's departure from the Fox Sports Network: "I fired him, he's crazy."
Stelter and Carter describe Olbermann as "a highly talented broadcaster, a distinctive and outspoken voice and a mercurial personality with a track record of attacking his superiors and making early exits."
In the New York Post, Michael Shain and Michael Starr report Olbermann's sudden exit at MSNBC was a months-long work in progress, with the "MSNBC bloviator" attempting to leave the cable network as early as last spring, with the host "trying to persuade his bosses to let him bow out of his $7 million-per-year contract, sources told The Post.
And in the St. Petersburg Times this morning, Eric Deggans sums up the tea leaf reading this way:
Conspiracy theories about meddling by newly approved majority owner Comcast also abound, but logic argues their denials of involvement seem genuine. Regardless of the company's philosophy, thy want to make money and maintain market dominance — it would make no sense for them to start a tenure running NBC by decapitating the cable channel's biggest star. The morel ike scenario seems that Olbermann and MSNBC decided to make their split final before the new overlords had to get involved at all.
Have a tip we should know? tips@mediaite.com