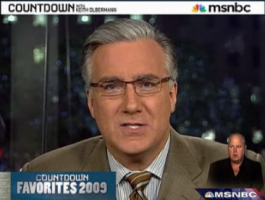 Like the rest of the news media, MSNBC's Keith Olbermann likes to spend the slow last week of the year reminiscing, and it's only natural that his nemesis Rush Limbaugh should get special attention. But there was something slightly off about last night's "Best of Rush Limbaugh 2009" segment on Countdown: namely, that an awful lot of seemed to be about Keith Olbermann.
2009 has been host to plenty of flamboyant Rush Limbaugh moments: his bold statement at the beginning of the year that he hopes Obama fails, his (joking) calls for a military coup — heck, even his bid for the St. Louis Rams. Instead Olbermann reaired a long clip from a May 22 episode of Countdown, which was all about … Rush Limbaugh claiming that MSNBC couldn't last a month without mocking and criticizing him. Meta?
Limbaugh: "Let's see if you can run your little TV network for 30 days without doing a single story on me. And then, let's take a look at your ratings during those 30 days, and see what happens." Olbermann's response: "Eff you!" (yes, he actually said "eff you.") "This isn't a bid for ratings. We believe you suck!"
As you'll see below, it's a weirdly self-referential clip, made weirder by the question of why, exactly, Olbermann and his producers thought it was the best showing for a man who has provided basketsful of incendiary quotes that Olbermann could have tossed like red meat to MSNBC's core audience. Were they just happy to have gotten under Limbaugh's skin? Or was Olbermann using the segment to congratulate himself on his own presumably witty insults and put-downs from the past?
Either way, he recognizes the relationship between the right-wing and the left-wing punditocracy, which Limbaugh, too is playing off of in the clip when he rants about the evils of MSNBC. As Olbermann says: "You spend more time talking about yourself than anybody else in broadcasting. You stop that, I'll stop it too."
Here's the clip:

Have a tip we should know? tips@mediaite.com