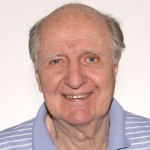 The giant  rear-view mirror held up by Walter Cronkite's death, seen through the fog of adulation and nostalgia for historic feats of journalism,  brings into focus the essence of his importance:  it was the trust he inspired — by dint of professional  skills, personal accessibility and exposure as the  first  designated anchor  for the new nationwide medium — by being a great reporter.
He has been famously quoted that "everything we did was for the first time."  True enough. His historic contribution to the new world of news, though, is that he set, affirmed,  and visibly maintained permanent professional standards by doing it so well.   It took a while before appreciation of these homely virtues of diligence, dispassionate judgment and integrity came to focus on him as personal exemplar among the pantheon of great reporters, as TV rose as a  primary dispenser of news to the public.
He did not emerge right away as the brightest star in the new firmament. His rivals were great journalists, well received. Huntley and Brinkley were ahead in the ratings, and Cronkite, who had  started to anchor the national conventions in 1952, was replaced for the 1964 Republican convention in 1964.   His replacement team was a flop, and he was  put back in charge for the Democratic convention that followed. It was not until 1967 that Huntley and Brinkley finally ceded their ratings leadership, and Cronkite officially assumed his position as  the nation's familiar, almost publicly certified, guardian and spokesman for truth and  trust.
As an old UPI wire service reporter  from Houston — and a veteran of bombing raids over Europe — he managed to stay away from personal involvement in  opinion and controversy,  even as he brought his judgment into play as Managing Editor of the CBS evening news. But in the exercise of that judgment, he eventually,  famously, emerged as a commentator in February, 1968, when he pronounced, after a reporting tour in Vietnam, that the U.S. could not win the war. Lyndon Johnson conceded later that when Cronkite made that public judgment, he knew he'd lost America's support. That might have been the time when Cronkite lost his cachet for objectivity and journalistic trust.
Events have continued to  chip away at those admirable virtues and values.  The media has splattered into almost infinite forms and purposes — attitudes, profits, technology, personalities. There was a wonderful singularity among Cronkite and his colleagues. But they were focused on the great purpose — the news, and its importance to the people. Nothing else mattered. They were not cynical about compromise in presentation, or corporate concern about profit, or how to play a hot-shot new technological  invention.
Great reporters still believe, and act.  But the institutional resolve seems to be fading.
I do not mourn the death of Walter Cronkite.  I mourn the fog of fading memory of the importance and purpose of the great  straight reporting, which he so nobly did.
Bill Rappleye has spent the last 60-plus years in journalism. Read more about him here.
Have a tip we should know? tips@mediaite.com