Oliver Stone: Petraeus Appointment "Shows A Complete Breakdown In The Military"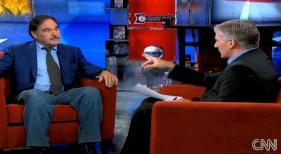 Oliver Stone was a guest on CNN's John King, USA yesterday, ahead of his new documentary, South of the Border, which comes out today and focuses on how great Hugo Chavez and other South American leaders are.
King asked for his take on Gen. Stanley McChrystal's ouster and Gen. David Petraeus's appointment, and shockingly Stone had a very Oliver Stone take on it.
Basically, according to Stone, this whole week (Rolling Stone article, Gen. Petraeus) is just symptomatic of the completely failing war in Afghanistan. "That's what happens when it starts to fall apart," he said. "This is the cracks."
Specifically about Gen. Petraeus, Stone says this "shows a complete breakdown in the military to me." Here's why:
Because the military is not based on one man, a leader, an ego, or anything like that. The idea is this guy can't do the job, the next guy steps in. But you don't promote down. It's like if Eisenhower were to lead a division in WWII after he's lead D-Day. So you don't do that. There's something wrong in the military and I say there's a big crack.
Also, apparently Oliver Stone has a different interpretation of our foreign policy strategy. "How would you like to be an Afghani or an Iraqi," he said. "You see American soldiers there, and we don't ever ask what they're thinking. Seems to me they don't want us there." (That's they way it seems to him at least.)
Here's a longer clip, that also addresses why Venezuelan elections are "cleaner than Florida in 2000":


—–
» Follow Steve Krakauer on Twitter
Have a tip we should know? tips@mediaite.com