Olympic Uniformgate Continues With Report That Team U.S.A.'s Uniforms Are Made In China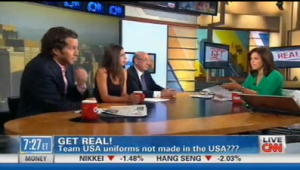 Yesterday, we told you about a Fox & Friends segment on the U.S. Olympic team's Ralph Lauren-designed uniforms. The morning show's report had focused primarily on whether the teams' berets were decidedly unpatriotic. The Fox & Friends folks had a follow-up segment on the matter today, as did CNN's Starting Point. Both shows focused on another aspect of the uniforms: They're made in — You guessed it! — China.
RELATED: Fox & Friends Gets To The Bottom Of The U.S. Olympic Team's Unpatriotic Berets
On her show's "Get Real" segment, host Soledad O'Brien noted that the U.S. Olympic Committee commented on the issue, saying that the "U.S. Olympic team is privately funded and we're grateful for the support of our sponsors and proud of our partnership with Ralph Lauren, an iconic American company." It's a statement, said O'Brien, "that sort of says absolutely nothing, if you think about it."
The show's panelists really didn't have an issue with it, noting that not much clothing is manufactured in the U.S. these days, although O'Brien argued that it made sense for the team to support not only American athletes and designers, but the country's manufacturers and laborers as well.
"Fine, no one's outraged but me this morning," O'Brien joked. "Fine! Fine."
Are the uniforms a failure from top to bottom? Is the media overthinking this? Don't the athletes' berets look kind of silly, actually? Let us know what you think, and check out the segment below, from CNN:
Have a tip we should know? tips@mediaite.com