On 60 Minutes, Ex-CIA Clandestine Service Head Defends Group Against 'Torture' Allegations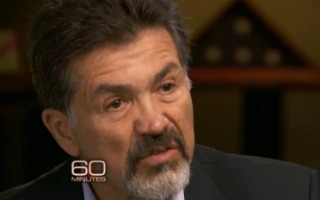 On Sunday, Jose Rodriguez, former head of the CIA's Clandestine Service, told 60 Minutes's Lesley Stahl that he has "no regrets" about the agency's use of "enhanced interrogation techniques" — such as waterboarding — in an attempt to gather information in the wake of 9/11.
"You had no qualms?" Stahl asked Rodriguez. "We used to consider some of [those techniques] war crimes."
"We made some al Qaeda terrorists with American blood on their hands uncomfortable for a few days," he responded. "But we did the right thing for the right reason. And the right reason was to protect the homeland and to protect American lives. So yes, I had no qualms."
"We are the dark side," Rodriguez later told Stahl in response to her having asked about mounting pressure from Congress and the White House "to take the gloves off" when it came to threats of an imminent terrorist attack.
RELATED: Fox News' Judith Miller: Obama May Have 'Ruled Out' Waterboarding, But He's Killing Americans With Drones
Rodriguez eventually brought on a former military psychologist who had experience in training American soldiers to withstand torture to help develop a program of "enhanced interrogation techniques" borrowed from our "Cold War adversaries. Rdoriguez supervised the program, which has made up of a team of about interrogators trained over two week period.
"We needed to get everybody in government to put their big boy pants on and provide the authorities that we needed," said Rodriguez. "Big boy pants. Let me tell you, I had had a lot of experience in the agency where we had been left to hold the bag. And I was not about to let that happen for the people that work for me."
Rodriguez explained that, in some cases, the use of nudity is advantageous in methods such as waterboarding. "It is effective," he said, "because a lot of people feel very vulnerable when they're nude. And also because of the culture. Nudity, it is not something that is common."
But such techniques weren't administered without approval. "We had rules," he explained. "And not only that, but every time we did any of this, we had to ask permission. The field had to ask permission of headquarters."
"I'm not trying to say that they were benign," he later told Stahl. "But the problem is here is that people don't understand that this program was not about hurting anybody. This program was about instilling a sense of hopelessness and despair on the terrorist, on the detainee, so that he would conclude on his own that he was better off cooperating with us."
Later, Stahl shared that she'd been told that interrogated prisoner Abu Zubaydah's stories "sent the CIA around the globe. Not a single plot was foiled. We spent millions chasing phantoms."
Rodriguez's reply? "Bullshit. He gave us a road map that allowed us to capture a bunch of Al Qaeda senior leaders." Including, as it turned out, Khalid Sheik Mohammed, a man Rodriguez describes as "brilliant. He was scary smart. But he's also evil. And he will use that intelligence to define different ways of coming after us." When asked, Rodriguez said he could not recall whether KSM had been made to wear diapers — something Stahl referred to as "so humiliating" — but did not that the use of diapers had been approved during the program and were "standard."
He shared KSM's behavior while being waterboarded:
Can I say something about Khalid Sheikh Mohammed? He's the one that was responsible for the death of Danny Pearl, the Wall Street reporter. He slit his throat in front of a camera. I don't know what type of man it takes to cut the throat of someone in front of you like that, but I can tell you that this is an individual who probably didn't give a rat's ass about having water poured on his face. […]

And let me just tell you. Khalid Sheikh Mohammed would use his fingers to count the number of seconds, because he knew that in all likelihood, we would stop at 10. So this doesn't sound like a person who is afraid of dying.
He had lost 50 pounds throughout his time with the CIA because of the agency's use of, as Rodriguez described it, "dietary manipulation."
"So sleep deprivation, dietary manipulation. I mean, this is Orwellian stuff," said Stahl. "The United States doesn't do that."
"Well, we do," Rodriguez replied.
As for whether the information supplied by KSM as a result of these interrogation methods were accurate or helpful, Rodriguez noted that "our own inspector general in many cases did very sloppy work. That report is flawed in many different ways."
"I don't know if it's made up," he added. "I don't know if they were advocates. You know, the inspector general himself, he was opposed to this. I mean, but this was the policy. So he was wrong."
Rodriguez then explained that he had ninety-two tapes of these interrogations destroyed in order to protect the interrogators "from al Qaeda ever getting their hands on these tapes and using them to go after them and their families," stressing that they had nothing to hide, and that all their techniques used had been approved and considered legal. "Everything that was on those tapes were authorized activities by the U.S. government. So there was nothing to cover up."
After expressing his own confusion over how killing with drones would be preferable over capture and interrogation, Rodriguez shared his thoughts on President Obama's declaration that the CIA's techniques were "torture:"
Well, President Obama is entitled to his opinion. When President Obama condemns the covert action activities of a previous government, he is breaking the covenant that exists between intelligence officers who are at the pointy end of the spear, hanging way out there, and the government that authorized them and directed them to go there.
Have a look at Part I, via CBS:
And here is Part II:
Have a tip we should know? tips@mediaite.com