On Arizona Shooting, Viewers Turn To Fox's Top News Anchors, Skip MSNBC's Taped Programming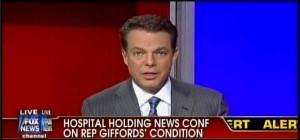 The mantra among journalists is "win the big story." On the huge–and horrific–shooting spree in Arizona, Fox News was the clear choice among viewers over the weekend, followed by CNN. MSNBC didn't win the big story–it largely sat it out, sending viewers who wanted information, not true crime and amazing animals fare, looking elsewhere.

According to ratings information released today by Nielsen, Fox News dominated coverage on both Saturday and Sunday, reaching a peak of nearly 3 million viewers in the 4 p.m. hour Saturday, which was anchored by Shepard Smith. Notably, Fox's coverage featured a full roster of the network's top weekday news anchors, but none of Fox's opinion hosts.
Between 1:30 p.m. and 1:00 a.m. Saturday, the main hours of breaking news coverage, Fox averaged 1,737,000 viewers. CNN, which ultimately brought in A-team news anchor Wolf Blitzer, was second with 1,266,000 viewers. The second-place showing for CNN is significant, as the network has long held that while its overall primetime ratings may drop, the network wins when big stories break. This time, CNN's numbers were clearly strong–and well ahead of MSNBC–but Fox's were bigger, both in terms of total viewers and among the key demographic of viewers 25-54. (Fox had 444,000 viewers 25-54 in the hours from 1:30 p.m. to 1:00 a.m. Saturday, to CNN's 379,000)
MSNBC, which broke away from its standard taped weekend programs Saturday, may have conditioned viewers not to turn to the network for live news coverage on weekends, coming in a distant third during the key hours Saturday, with 485,000 total viewers and 193,000 viewers 25-54.
On Sunday, Fox News again dominated coverage on a full day and primetime basis, with 1,199,000 total viewers in primetime, compared to CNN's 851,000 and MSNBC's 362,000. MSNBC's programming Sunday night included Caught on Camera: Survival of the Fittest, a special called Too Fat to Kill, and Confessions of a Serial Killer.
Have a tip we should know? tips@mediaite.com