Matt Fisher Describes How Progressive Insurance Defended His Sister's Killer
Matt Fisher Describes How Progressive Insurance Defended His Sister's Killer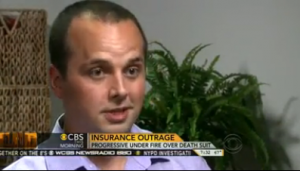 As we reported yesterday, Progressive Insurance is feeling some heat from the public following an online post by a man named Matt Fisher, whose sister — who had been insured by the company — died following a 2010 car crash in Baltimore. Fisher's post, titled "My Sister Paid Progressive Insurance to Defend Her Killer In Court," recounted the legal hardship his family has had to contend with following his sister's death, culminating, Fisher says, with Progressive paying for the legal defense of the driver deemed responsible for the fatal crash. "At the trial, the guy who killed my sister was defended by Progressive's legal team," Fisher wrote. "If you are insured by Progressive, and they owe you money, they will defend your killer in court in order to not pay you your policy."
RELATED: Progressive Insurance's Response To The Fisher Scandal Is A Textbook Example Of A PR Catastrophe
On Thursday, Fisher appeared on CBS This Morning to share his story.
"I was awoken by a call from my grandmother," Fisher recalled. "She eventually said 'call your parents' and hung up. I called my dad and he told me my sister had died."
The other driver involved in the accident had been insured for $25,000, but Fisher's sister had a $100,000 policy with Progressive in case she was injured or killed by an underinsured negligent driver. However, Progressive refused to pay because there were conflicting eyewitness accounts as to which driver was at fault for the crash.
Fisher's family decided to sue the other driver in court in order to establish his negligence, only to discover that a lawyer for Progressive "intervened," as the report describes it, in the case and asked for the company to be included as a defendant.
"The guy who, for better or worse, killed my sister had more than one attorney," said Fisher. "He had two attorneys and one of them identified himself at the beginning of the case as an employee of Progressive."
Progressive, however, disputes Fisher's claim and notes that the other driver was represented by an attorney for Nationwide.
Eventually, the jury in the case sided with Fisher's family, awarding them $760,000 in damages.
"This is a tragic case and our sympathies go out to Mr. Fisher and his family," progressive told CBS. "A jury determined that the other driver was at fault in Ms. Fisher's accident. In accordance with that decision, Progressive is actively working with the Fisher family and their legal representative to resolve the claim. Progressive participated in the trial procedures on our own behalf, while Nationwide represented the other driver."
Fisher disputes that last point, telling CBS that "he defended that guy in the case. He argued to the jury in his opening statement that he should not be found negligent. He cross-examined our witnesses, he conducted direct examination of their witnesses and at the end, he made a closing statement. He argued that the other guy had a green light. My sister had a red light."
Meanwhile, Progressive has also shared that "as of last night, we understand from our attorney that an agreement has been reached with the Fisher family." However, the details of that agreement have not been revealed.
Have a look, via CBS:
Have a tip we should know? tips@mediaite.com