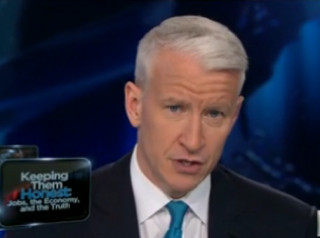 Yesterday, the first day of the month, came with no good news for the Obama campaign– a jobs report showing a slow-down in an economy the President was arguing had been growing, in an election year where the economy was first and foremost in the minds of voters. On last night's Anderson Cooper 360º, host Anderson Cooper noted that the jobs numbers were, in fact, bad, but spent a much greater time correcting claims by the Romney camp that the President had made certain promises– an editorial choice that seemed to diminish the day's biggest headline.

RELATED: Manufactured Outrage: Obama Says The Word 'Thingamajig,' Conservative Blogs Explode In Outrage!!!
Cooper played the clip of the President explaining that "our economy is facing some serious headwinds," but then turned to the Romney camp's reaction– Mitt Romney himself calling the report "very bad news for the American people." Cooper noted that polls show the race to be a tight one, "with the economy being the top issue," and ceded that "it is certainly true that it is the President's job to get America back to work." But then he turned to a particular claim by the Romney camp– that President Obama had promised below 8% unemployment after the stimulus. This, Cooper noted, is a promise several media outlets have debunked, including "Politifact and the The Washington Post."
Cooper is correct to point out that the claim is not exactly a full representation of the truth, and fact-checking both sides is clearly necessary, especially the closer we get to November when both campaigns will be in overdrive. But focusing his "Keeping Them Honest" segment on Romney's claims instead of the President's when one is clearly in charge of the economy and the other is not seems to bury the lede in a serious way. It should be clear that a bad monthly jobs report should put President Obama on the defensive– not his challenger. Incumbency comes with a great many advantages, and with those come responsibility for reports like these. Romney's claim could be incorrect and certainly merits attention, but highlighting it as a top story of the day with the day's jobs report as a semi-relevant backdrop undermines the impact President Obama's policies are having on the economy, encouraging in some subconscious way a closer scrutiny of Romney's campaign over President Obama's potential errors.
The clip via CNN below:



—–
» Follow Frances Martel on Twitter
Have a tip we should know? tips@mediaite.com