On Death Row: What Werner Herzog's Prison Series Can Teach Us About Journalism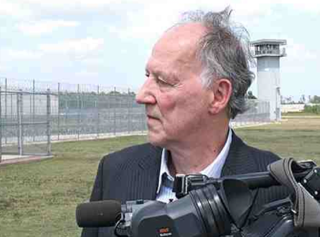 "I love the rain, I love when I can hear the rain on the roof," Florida inmate James Barnes, on death row for murder, tells Werner Herzog in the premiere of his new television series, On Death Row. It reminds him that there is a world outside. If you've heard of Werner Herzog before, this sentence may seems a bit strange, but it's true: with a career spanning more than three decades as one of the greatest filmmakers of all time, Herzog—the director of such classics as Fitzcarraldo, Aguirre: The Wrath of God, and Grizzly Man— has teamed up with Investigation Discovery to make a series out of his latest documentary.
RELATED: Werner Herzog And Samuel L. Jackson Narrate Profane Bedtime Book 'Go The F*ck To Sleep'
Into the Abyss, the documentary upon which the series On Death Row is based, chronicles the end of the lives of several death row inmates—their crimes, their last thoughts, the way they, their families, and the families of victims cope. Herzog makes it no secret that he disagrees the capital punishment from a political standpoint, but his work is not political. Nor does it mean that he feels any especial empathy towards the inmates he interviews—in the premier episode of the program, he tells Barnes, "Just because I sympathize with your cause does not mean I have to like you."
Despite being open about the fact that he did not believe the state should have the power to take life, much of the episode details Barnes' crimes with brutal honesty. There is barely any music, nothing intended to tug at the heartstrings. There are lighthearted moments, like when Barnes notes that one of his favorite foods is grilled beef, and Herzog jokes that he may prefer barbecue "because you're an arsonist." But much of the episode revolves around how Barnes got there—namely, sexually assaulting a woman and beating her to death with a hammer, then setting the bed on which he killed her on fire.
"It was very ugly, it was very brutal, it was very messy," Barnes tells Herzog. "There's no way to take it back." Herzog interviews the detective on his case as well as Barnes' attorney, and gives Barnes a chance to say that he was remorseful, that he "cried so many nights over it." This before he lets Barnes' twin sister unveil that he had committed an unspeakable crime against her, and before Barnes decides to confess a number of other crimes unrelated to the one he is being killed for, several months later.
Herzog did not convince me that capital punishment was a mistake. In fact, despite his openness with his personal biases, the first episode of On Death Row confirmed to me what I always believed about it: that not matter how terrible the anxiety of knowing the state is about to kill you, no matter how monumental the strain or the threat of giving the state so much power, none of these concerns can trump the horror of the actual crimes for which these people end up on death row. That does not mean the policy works in practice as it should—and condemning innocents is a very serious concern— but nothing in this first episode of the series, even the author's admission that he disagrees with me, changed my opinion.
RELATED: Watch Stephen Colbert Lose Control Of Interview As Werner Herzog Goes On About 'Cave Porn'
That Herzog put his biases front and center in the piece made me trust his approach more—the only thing someone on a journalistic mission has to lie about is their opinion, and being open about that leaves little left to be dishonest about. This fundamental truth of journalism has evaded much of American politics today, where the mirage of "objectivity" has become the ultimate sacred cow, where journalists have conflated having an opinion with imposing over their audience in such a way that coming to any conclusion on any issue is frowned upon. No matter how much of a good faith attempt it may be not to deceive viewers, upholding objectivity over honesty necessarily leads to precisely the result they intend to avoid. As Herzog notes in his series, having an opinion is no journalistic sin—it's natural. One never feels that he imposes his opinion simply by making it public, and presenting it in such a way is a skill that would benefit public discussion on every major societal issue—capital punishment being no exception.
Herzog's On Death Row premieres on Investigation Discovery on March 9th at 10PM. Into the Abyss, the film from which this series came, is in select theaters now. For those unacquainted with Herzog's work, I would recommend as a starting point My Best Fiend, his 1999 documentary on working with legendary actor Klaus Kinski. The preview for the series below:

Werner Herzog's ON DEATH ROW (2:30 Clip) from Investigation Discovery on Vimeo.


[Photo via]
Have a tip we should know? [email protected]