On Fox, Democratic California Mayor Slams Unions For Suing To Block Election Results Limiting Pensions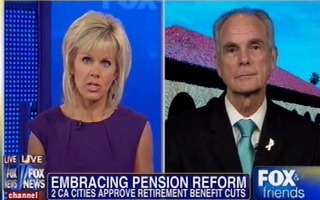 San Jose's Democratic Mayor Chuck Reed appeared on Fox & Friends on Thursday where he slammed his city's public sector unions for suing to stop the results of a referendum passed on Tuesday from going into effect. The ballot measure, which passed by 70 to 30 percent, would demand cutbacks to pensions for police and firefighters unions; today, the city's mayor is speaking out against the unions.

RELATED: Colbert Clashes With Colbert Show Union Over Celebrating Scott Walker Victory
"I led the effort to make sure we can survive as a city and deliver services to our residents by getting control over these skyrocketing costs," said Reed. He outlined the city's massive debt and the "billions in unfunded liabilities" which he said was too big for a "city of a million people."
Co-host Gretchen Carlson read a statement that Reed had previously given where he accused the city's public sector workers of "corruption."
"Public service shouldn't be just about the money," said Reed. "It ought to be about serving the public—delivering services to the public. Unfortunately, many people have decided that the money is more important than anything else. That's what the unions have focused on in negotiations and that seems to be the most important thing to some people."
He said the costs associated with the city's public sector benefits have simply become unsustainable.
Reed said the city filed a "declaratory relief action" on Election Day in expectation that the unions would file a lawsuit to halt the results of the referendum from going into effect.
Reed says he hopes that San Jose can lead the way so that "other cities can move forward to deal with this terrible crisis that is plaguing cities across the state and the country." He concluded saying that he fully expects the city to emerge victorious after their case goes to court.
Watch the segment below via Fox News Channel:
Follow Noah Rothman on Twitter
Have a tip we should know? tips@mediaite.com