On Fox, Rush Limbaugh Tears Into 'Sideshow' Obama Admin, Warns GOP Will Get 'Skunked' In 2014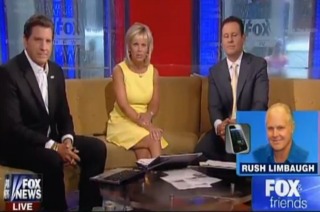 On Tuesday, conservative radio host Rush Limbaugh joined the hosts of Fox & Friends for a wide-ranging interview relating to international and domestic political issues. Limbaugh attacked President Barack Obama's administration's response to the turmoil in Egypt and the Middle East saying that the White House prefers shaping perception to affecting positive change. He then went after Republicans for focusing on the politics of immigration rather than the Affordable Care Act and noted that it was a real possibility that the GOP could lose the House in 2014.

Gretchen Carlson opened the interview by asking Limbaugh for his thoughts on the Egyptian military's demand that the protesters and the government come to a consensus within the next day.
"I'm totally confused by Egypt," Limbaugh replied. "I thought this is what we wanted when the Arab Spring was taking place a couple years ago. Everybody was making it appear as though it was happening as a result of being inspired by Obama's own election."
"Basically, what we have is a bunch of people in Egypt defrauded by an illegitimate, lying campaign – reminds me of some others," he continued.
"What did anybody think was going to happen?" Limbaugh asked. "Who are these people? They're not exactly the Founding Fathers of this country. What did people think they are? These are basically militant Islamists."
RELATED: Rush Limbaugh Warns Of Obama Takeover: 'We Are In The Midst Of A Coup'
"The fact that Obama can't even bring himself to condemn this ought to be eye-opening to anybody that's paying attention," he added.
Brian Kilmeade asked why, given the protests, the U.S. was again refocusing on the relationship between Israel and Palestine. "It's John Kerry. He doesn't know what he's doing," Limbaugh opined. "Everything about this administration is image, sideshow, perception, photo op, optics."
Turning to the implementation of the Affordable Care Act, Eric Bolling asked about the administration's efforts to enlist a variety of groups to help sell the law to the American public. Asked about the political impact of 'Obamacare,' Limbaugh saw political opportunities for the GOP.
"I think it's a golden opportunity for the Republicans to get back in people's good graces and stand for something the American people actually stand for," Limbaugh noted. "They're using Obamacare and these exchanges to grow the Democrat party."
Limbaugh said that the GOP is allowing themselves to be "skunked" by focusing on immigration reform. He noted that the 2014 midterms are critical because the Democrats could win back the House.
"You think that's a possibility?" Kilmeade asked.
"Yeah, because the Republicans are in the process of engaging in policies guaranteed to lose them elections," Limbaugh replied.
Watch the interview below via Fox News Channel:
> >Follow Noah Rothman (@NoahCRothman) on Twitter
Have a tip we should know? tips@mediaite.com