On Fox: Obama Pledges to Delay Vote on Syria Strike, Will 'Thoroughly Examine' Russian Solution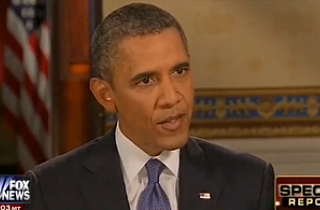 On Monday, President Barack Obama sat down with reporters from six major networks to discuss his push for intervention into the Syrian civil war. In his interview with Fox News Channel anchor Chris Wallace, Obama embraced the solution to the crisis suggested by Secretary of State John Kerry and embraced by Russia to supervise Syria's surrendering of their chemical weapons stockpiles.

Wallace began the interview by asking what Obama believes the fallout will be following a strike. Obama dismissed that question, saying that America's military forces are aware of what Assad's capabilities are.
RELATED: Did John Kerry Just Accidentally Solve the Syrian Crisis, or Fumble It?
"Keep in mind that even [Bashar] Assad's allies recognize that he crossed the line in using chemical weapons," Obama said. "There is a reason why almost the entire international community has signed a ban on chemical weapons, even during hot wars. And it's because they are indiscriminate."
Wallace asked if Obama was considering the "rhetorical" solution to the crisis offered by Sec. Kerry and taken up by Russia as a viable resolution to the crisis: Moscow's supervision of Syria handing their chemical weapons to the international community.
"I think it's fair to say that we would not be at this point without a credible threat of a military strike, but I welcome the possibility of the development," Obama said. "I think we should explore and exhaust all avenues of diplomatic resolution to this, but I think it's important to keep the pressure on and – to quote or to paraphrase, at least, a former U.S. president, Ronald Reagan – it's not enough just to trust, I think we're going to have to verify."
"So, would you delay a congressional vote until you see where this goes?" Wallace asked.
"There's a reason why I slowed this thing down to allow for a congressional debate," Obama replied. "We've gone through a lot of war and people are frankly suspicious of a lot of decisions…"
Wallace pressed Obama whether he would delay a vote. The president replied that "there was no expectation that Congress would be finished with its deliberations over the next week or so."
"Right now, the American people are not persuaded," Obama added. "We're going to have time to have a good deliberation in Congress. We will pursue this diplomatic track. I fervently hope this can be resolved in a non-military way.
Obama said he discussed a diplomatic resolution with Russian President Vladimir Putin while he was in St. Petersburg last week for a G20 summit. He said that the White House will be in contact with Russian authorities and will "thoroughly examine" their proposal for a diplomatic resolution to the crisis.
Finally, Wallace asked about the collapse of public support for intervention and the likelihood that a vote in Congress authorizing force would fail. Wallace asked Obama how much blame for that situation he thinks he personally bears.
Obama replied that much of the resistance to a Syrian strike results from America's war-weariness. He said that the U.S. can seek to enforce international norms prohibiting the use of chemical weapons without America going on to "own" the Syrian civil war.
Watch the interview below via Fox News Channel:
[Photo via screen grab ]
— —
> >Follow Noah Rothman (@NoahCRothman) on Twitter
Have a tip we should know? [email protected]