On Fox, Ted Cruz Calls for Bipartisan Coalition to 'Start Over' On Health Care Reform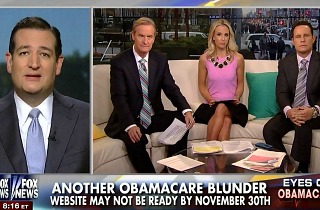 Appearing on Fox News Channel on Wednesday, Sen. Ted Cruz (R-TX) said that it is clear from the results of the Affordable Care Act's implementation that the law will not work as written. He said that it is past time for a bipartisan group of legislators to scrap President Barack Obama's achievement and to "start over" on health care reform.

"Do the American people even want Obamacare anymore?" Elisabeth Hasselbeck asked. She asked Cruz what he believed is the GOP's "strategy" for dealing with the ACA after its implementation has begun.
"The problem is it's falling apart but as it's falling apart millions of Americans are hurting," Cruz replied.
"Congress needs to step in," he continued. "We need to show real leadership and fix the problem that Congress created. We need to stop Obamacare."
"You mean stop it or fix it? Is it fixable?" Brian Kilmeade asked.
"I don't think it's fixable," Cruz replied. "It is fundamentally flawed."
RELATED: Jake Tapper to Hugh Hewitt: If I Were Hillary Clinton, I'd Be Very Silent About Obamacare
"At this point, in my view, stopping Obamacare is the essence of pragmatism," Cruz added. He said that the evidence shows that, three years after the law was passed, it is clear that the law was flawed.
Steve Doocy asked about President Bill Clinton telling an interviewer that he hopes the president honors his "commitment" to those who are losing their health insurance plans.
"It suggests, perhaps, that Hillary Clinton is looking to run away from Obama and run away from Obamacare," Cruz replied. "That might be a signal to Democrats, this thing isn't working."
He said that it is past time for a bipartisan group to emerge with the aim of focusing on reforming the nation's health care system from scratch. "Let's start over," Cruz concluded.
Watch the clip below via Fox News Channel:
[Photo via screen grab ]
— —
> >Follow Noah Rothman (@NoahCRothman) on Twitter
Have a tip we should know? tips@mediaite.com