On GMA, Colbert Predicts Jon Stewart Will 'Eat Bill O'Reilly's Liver' During Debate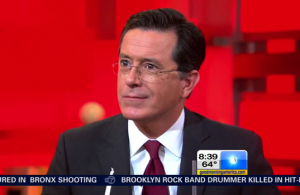 Stephen Colbert stopped by Good Morning America today to guest-host and promote his new book America Again: Re-Becoming The Greatness We Never Weren't. During the show, Colbert sat down with George Stephanopoulos to talk about his book and what's happening this week in politics. Stephanopoulos asked Colbert about the premise of his book, to which Colbert proudly declared, "America's perfect and it's time to fix it."
RELATED: Colbert Surprised That, Unlike Oprah, Letterman Doesn't Give His Guests Gifts
Stephanopoulos brought up the impending debate between President Obama and Mitt Romney. Colbert said if he were moderator, he would make them play rock-paper-scissors, and referred to debate moderator Jim Lehrer as "the most boring man in news." He suggested that during the debate, Romney should "randomly lash out" at Obama.
And on the subject of political debates of national importance, Stephanopoulos turned to Saturday's big showdown between Jon Stewart and Bill O'Reilly. Colbert predicted that Stewart will "eat Bill O'Reilly's liver" with some fava beans and a nice chianti.
Stephanopoulos asked Colbert about his book, specifically what he has to say about celebrities promoting America. Colbert argued that one of the nation's biggest exports is its entertainment industry, and Hollywood needs to produce more movies that exalt America's greatness. Colbert made sure to note that the book is in 3D, because it got The Avengers a lot of money and the market has spoken.
Stephanopoulos put Colbert on the hot seat and asked him what he would rename America if he got the chance. "America Plus." And what does Colbert think is the best thing about America? "Our exceptional greatness." Of course, Colbert admitted there are too many states for the country to know what to do with, and said the U.S. should cut a few states loose to boost the economy.
Watch the video below, courtesy of ABC:

—–
Follow Josh Feldman on Twitter: @feldmaniac
Have a tip we should know? tips@mediaite.com
Josh Feldman - Senior Editor