On Hannity, Allen West Unapologetically Responds To Criticism Of 'Slavery' Remark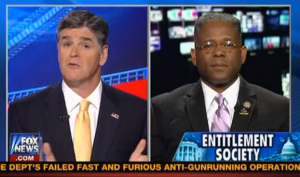 Rep. Allen West recently made a provocative remark in which he said "economic dependence" (on welfare programs) is "a form of modern, 21st century slavery." In a segment with Sean Hannity on Monday night, West addressed the firestorm, with no regrets, and further made his case regarding the state of the country's welfare programs.
RELATED: Rep. Allen West: Social Security Is 'A Form Of Modern, 21st Century Slavery'
Hannity began by noting that last year the government overpaid $14 billion in unemployment benefits. Wasteful government spending? Case in point, Hannity argued, paired with the chyron "Entitlement Society."
West chimed in, echoing a similar sentiment. The fact is, he said, Medicare is going to go bankrupt soon if we don't tackle the issue of social programs. Pointing to the unemployment situation, West said we're not encouraging entrepreneurship, we're increasing dependence on government.
Hannity asked West if Americans are willing to accept austerity measures, to which West replied Americans will be open to solutions if they see a concrete plan to get the country in better shape. "We need to have the tough discussions with the American people and give them the truth," West said, also taking a jab at the "liberal media."
Then addressing the obvious question, Hannity asked West about his use of the term "slavery" in recent comments. "I understand that my country is at a very perilous situation, and I'm going to use the words that are necessary to get the attention of the American people," West responded unapologetically.
Take a look, via Fox News:

Have a tip we should know? tips@mediaite.com