On Hannity, Dana Perino Accuses Stuart Varney Of Wearing Suspicious 'Al-Jazeera-ish' Tie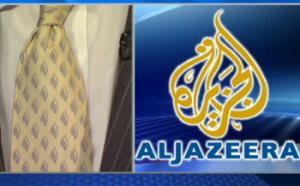 Was Fox Business anchor Stuart Varney sending a subtle signal in his choice of ties when he went on Hannity? In a strange exchange that led Varney–who was on the show to talk about the possibility of a government shutdown–to ask, "is this a new show called ambush?"
The "ambush" was over Varney's yellow silk tie, which seemed–to Fox contributor Dana Perino–to be vaguely reminiscent of the logo of the Al-Jazeera network. In a moment that seemed unintended for discussion on air–Perino at first insisting the tie was "lovely" until Hannity forced it–ultimately led to a full-on question and answer session, and clearly producers wanted to bring it up, since they had time to grab a shot of the tie and produce a side-by-side tie/AJ logo graphic.
HANNITY: And joining me now with reaction from the Fox Business Network, the host of "Varney & Company," Stuart Varney and former White House Press Secretary, Fox News contributor Dana Perino.
What were you saying about Mr. Varney's tie?

DANA PERINO, FOX NEWS CONTRIBUTOR: Nothing. It's lovely.

HANNITY: That's not what you were saying.

PERINO: It has an interesting emblem on it.

HANNITY: All right. It looks like — did you ever work for the al-Jazeera Network?

STUART VARNEY, HOST, VARNEY & COMPANY: What? Is this a new show called ambush?

PERINO: Ambush, exactly. I had to take you down somehow tonight.

HANNITY: You called her establishment once, so I think this is fed that she finally got you back.

VARNEY: Let's see now, establishment, al-Jazeera, which would I choose?
Not, as it turns out, an al-Jazeera issued tie.
Watch it here, from Fox News:
Have a tip we should know? tips@mediaite.com