On Hannity, Giuliani Emphasizes Need For Boston Authorities To 'Mislead' If They Want To 'Spook' Bomber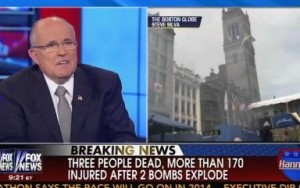 Former New York mayor Rudy Giuliani sat down with Sean Hannity tonight to talk about the aftermath of yesterday's Boston bombing. Giuliani drew on his own experience handling tragedy in the immediate aftermath of 9/11, and discussed how Boston police and the FBI could best handle the situation. Giuliani told Hannity that even if they have a potential suspect ID'ed, the police should be allowed to mislead the public if they want to "spook" the suspect and not tip their hand too early.
RELATED: The Left Warns Americans Not To Succumb To 9/11-Like Reaction To Boston Marathon Bombing
Giuliani said that in the aftermath of something this horrible, the first day is the most critical, and authorities ended up letting go the one person they were questioning. Both men expressed hope that in the tons and tons of video footage of the event, there should be something in a few of them that would help Boston police piece together the timeline and find out who may have planted the bombs.
Hannity asked if law enforcement would be "less inclined" to tell people if they had a picture of who they believe to be the bomber. Giuliani agreed, saying they may be keeping information confidential to "spook the guy who did it," and that in spite of the press wanting to share as much as possible with the public, "they have to be allowed to mislead."
Hannity brought up the irresponsible speculation over the bombings, which Hannity mostly attributed to "the left," including Barney Frank and Steny Hoyer. Giuliani said he has a "hunch" that it's homegrown terrorism, and said that if he were looking into the case he would be operating on that assumption, but stayed away from much speculation on the issue.
Watch the video below, courtesy of Fox News:
—–
Follow Josh Feldman on Twitter: @feldmaniac
Have a tip we should know? tips@mediaite.com
Josh Feldman - Senior Editor