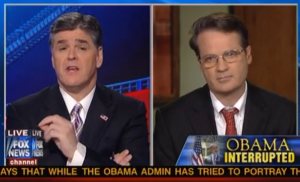 The Daily Caller's Neil Munro paid a visit to Sean Hannity on Monday night to talk about his controversial interruption during President Obama's immigration remarks. Sticking to his defense of "mistiming" the question, Munro further criticized the president for not even answering his question — and making such a sweeping policy change, no questions asked.
RELATED: Daily Caller Reporter Heckles President Obama During Immigration Remarks
Hannity began by noting that Munro's been "beaten up pretty badly" by his colleagues, but Munro said he hadn't noticed because he's been focused on his work. Addressing the controversy in question, Munro said he went into the announcement knowing the unemployment numbers, seeing that Obama was nonetheless making this "extraordinary" move — with no press conference, no time for questions. Thus, he said, he knew he had to squeeze in his questioning just as Obama was finishing up and leaving.
"The only way to ask the questions was get him at the end as he's leaving just before he dashes back to the Oval Office, and, yes, I mistimed it," Munro said. "I thought I was getting him at the end. Frankly, I was wrong about that."
Munro went on to note that Obama didn't even answer his questions, even when he directly asked for an answer, so he "gave up at that point." But again noting the timing of the questioning, he said, "The trick is to get him just before he leaves the podium … he'll finish his statements and, flick, he's gone."
Asked whether he'd heard from the White House, Munro said he asked if the White House people wanted to talk to him, but he hasn't heard back — so he's proceeding as normal, working on other stories.
Hannity then pointed to the comparison to the incident with Sam Donaldson and President Ronald Reagan. Noting that Munro should have waited until Obama was finished, he asked whether the media's being hypocritical. Munro said at least Reagan was willing to talk and answered the question. Obama just "turns his back on the American people, and walks back into the Oval Office."
Hammering home the media hypocrisy, Hannity ran a video montage of the "softball" questions the media has thrown at Obama over the course of his first term, asking if the media's been too easy on him.
"Yes, clearly, and for a variety of reasons that are hard to correct," Munro said. "But we at The Daily Caller will not try to be easy on him and try not to be easy on the next president. It's our job to work for the American people through our publication to provide them the information that the politicians are reluctant to hand out. We've got to do our job."
Take a look, via Fox News:

Have a tip we should know? tips@mediaite.com