On Maddow, Cory Booker Blasts GOP For 'Manipulating' And 'Exploiting' His Meet The Press Comments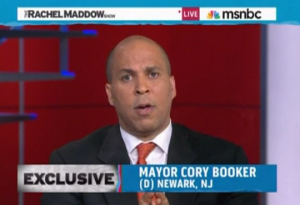 Responding to the firestorm following his Meet the Press appearance, Newark Mayor Cory Booker took to Rachel Maddow's show on Monday night to set the record straight. Upset with how Republicans are "manipulating" his words, Booker said he's stands firmly with President Barack Obama — but also affirmed that he's been an independent Democrat for a long time, and won't hesitate to speak out.
RELATED: Mayor Cory Booker Calls President Obama's Bain Attacks 'Nauseating'
Remarking on the GOP's "I Stand with Cory Booker" effort, Booker said the GOP is "plucking sound bites out of that interview to manipulate them in a cynical manner and use them for their own purposes." He added, "Anybody in the GOP who wants to stand with me, please stand with me" — on issues such as marriage equality, not turning back the clock on women, making healthcare more accessible, making college more affordable, etc.
Plainly, he stated, "I stand firmly with the president" — before expressing his frustration with the Republican Party, which, he said, tends to overlook the kind of urban areas he's been working in for years. Stand with Cory Booker? Sure, he said: stand with him in Newark or Camden or Detroit.
About the television appearance in question, Booker said he has spoken with the Obama team, but that they didn't force him to do anything. He then moved on to discussing the state of the political arena, and the kinds of attacks that fly from both sides. Conceding that his side does sometimes go too far, Booker also added, "You can't even equate the negativity on the right with what's happening in some sectors on the left."
Affirming his "partnership" with the president, Booker said he's "not going to remain silent" when politicians bring up issues that are distractions. "I reject that negativity," he said.
Finally, Booker underlined that he is unhappy with the way Republicans have been using his words. They pulled that soundbite, he said, but noted that his other remarks included criticism of super PACs and Citizens United.
"I'm a mayor of a city, I have to deal with urgencies every single day," Booker said, adding that right now the discussion from the "cynical right" does very little for the issues people are dealing with in urban areas.
Booker said, "I am upset that I have been taken out of context, I have been used to support cynicism." It manipulates his entire professional career, he said, later adding, "People have ignored Newark before, but to exploit it or its mayor — that's something I'm not going to sit still for."
He reiterated, "I'm very upset I'm being used by the GOP this way" — and rest assured, you'll be hearing more from him.
Take a look, via MSNBC:

Have a tip we should know? [email protected]