On Morning Joe, Bill Clinton Weighs In On Obama's Handling Of Libya, Iran, And Israel
On
Morning Joe
, Clinton Weighs In On Obama's Handling Of Libya, Iran, And Israel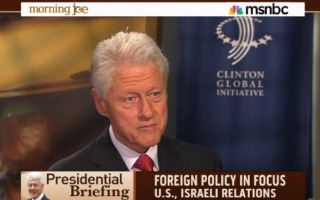 Morning Joe hosts Mika Brzezinski and Joe Scarborough sat down with former president Bill Clinton in advance of the Clinton Global Initiative Summit today. In the wide-ranging interview, Clinton was asked about the President's handling of foreign policy across the Middle East.
Clinton started off by saying he's done very well considering how chaotic the situation overseas has been and remains, being careful to note that the Libyans, by and large, are happy with our support, and there were Libyans who lost their lives trying to protect Americans during the recent attack in Benghazi.
"When you get of an old regime," he said, "you know one of the things they try to maintain control of was their security services for obvious reasons. Every dictatorship does, right? So they took down the old security service and they hadn't really — had time to build up their own and there was a lot of weapons floating loose in the country. But I think the American people, for all of the tragedy here, could take a lot of comfort in the fact that Libyan citizens stormed the offices of some of these militia groups to get the weapons out. They are trying to fix it."
As for Obama not meeting with Israeli PM Benjamin Netanyahu, Clinton remained diplomatic, saying he didn't know what the facts are or what might need to be discussed in person, but that it's understandable that both Obama and Netanyahu would want to "keep their options open." Plus, he added, "didn't they say they talked for an hour on the phone just in the last couple of weeks? I mean, I don't think there's a difference in what's symbolic and real.
He also shared, with a laugh, that he tries to keep from having these conversations to his wife, the Secretary of State, because "I never want to know anything that I shouldn't be talking about on television."
Have a look at the interview, via MSNBC:
Have a tip we should know? tips@mediaite.com