On Morning Joe, Campbell Brown Explains Why 'Teachers Unions Go To Bat For Sexual Predators'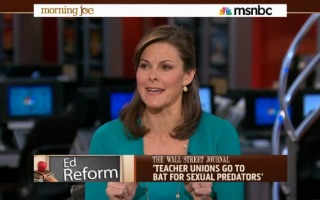 Campbell Brown stopped by Morning Joe to discuss her Wall Street Journal report on how "Teachers Unions Go to Bat for Sexual Predators."
Here's an excerpt from her piece:
RELATED: Campbell Brown On MSNBC: Planned Parenthood's Partisan 'Purity Test' Will Ultimately Hurt It
Under current New York law, an accusation is first vetted by an independent investigator. (In New York City, that's the special commissioner of investigation; elsewhere in the state, it can be an independent law firm or the local school superintendent.) Then the case goes before an employment arbitrator. The local teachers union and school district together choose the arbitrators, who in turn are paid up to $1,400 per day. And therein lies the problem.

For many arbitrators, their livelihood depends on pleasing the unions (whether the United Federation of Teachers in New York City, or other local unions). And the unions—believing that they are helping the cause of teachers by being weak on sexual predators—prefer suspensions and fines, and not dismissal, for teachers charged with inappropriate sexual conduct. The effects of this policy are mounting.
After some fairly extensive, very mind compliments on her work from guest panelist Chris Matthews, Brown — who had testified on the matter before New York Governor Andrew Cuomo's education reform committee — called the system for dealing with possible misconduct by teachers "broken," especially when cases deal with a "gray area" concerning what does or does not constitute inappropriate behavior.
She gave an example of a teacher who, after having allegedly asked a female student for a "strip tease," engaging in sexual banter with students, and sexually harassing them over social media and text, was only given a temporary suspicion after an independent arbitrator determined that the teacher hadn't actually solicited sex.
The United Federation of Teachers for the NYC district responded by saying that they have "stringent rules" in place — a statement neither Brown nor panelist Mike Barnicle felt sufficiently addressed the issue.
Have a look at the segment, courtesy of MSNBC:

Have a tip we should know? tips@mediaite.com