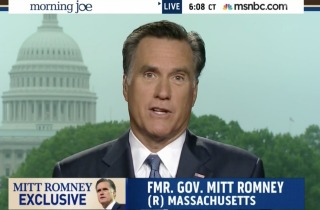 Former Republican presidential nominee Mitt Romney joined the hosts of MSNBC's Morning Joe on Friday for a wide-ranging interview on subjects ranging from Hillary Clinton, to Russia, to the future of the GOP. When pressed on how his party can reconcile the internal friction over issues important to the nation's changing demographics, like same-sex marriage and hiking the minimum wage, Romney said that he was breaking with most of his party and that he endorses a raise in the federal minimum wage.

"Given the changing demographics of this country and your ambitions or past ambitions for the White House, how do you cope with the changing demographics of the country when you have an increasingly conservative unyielding bent in many members of your party with regard to issues like immigration, marriage equality, and minimum wage?" Mike Barnicle asked.
"Well, different members of my party have different views on those different issues," Romney replied. "I part company with many of the conservatives in my party on the issue of minimum wage. I think we ought to raise it."
RELATED: GOP Candidate Tillis: Raising Minimum Wage a 'Defeatist Mentality'
"Because, frankly, our party is all about more jobs and better pay," he continued. The former Massachusetts governor said that the GOP must convince minority voters that the GOP has a better position on the issue of employment.
"The Democratic Party has shown that over the past five years of their leadership, income inequality has become worse," Romney concluded. "And the policies over the past five years have not worked for Hispanic families or African-American families."
Watch the clip below, via MSNBC:
You can watch the full segment below:
[Image via screengrab]
— —
>> Follow Noah Rothman (@NoahCRothman) on Twitter
Have a tip we should know? tips@mediaite.com